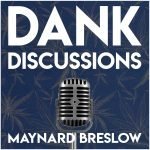 Alex Corren is the Founder and CEO of UnCanny Wellness, a company that believes CBD hemp extract is only one piece of the health and wellness puzzle. UnCanny is one of the first Hemp companies to develop a hemp-derived, broad-spectrum, water-soluble CBD powder. Furthermore, their unique extract formulation has many benefits over traditional oil-based extracts. For that reason, UnCanny aims to tackle the coffee market in early 2020. Founded in Boulder, CO in early 2016, UnCanny Wellness is committed to pushing the hemp-derived CBD industry forward by creating premium, innovative products for everyone to enjoy.  In this episode of DANK Discussions, Alex tells us how he scaled his CBD brand by himself without giving up his company to investors.
3 DANK Points
Entrepreneurial spirit – Building a successful CBD brand without funding.

Water-soluble CBD vs oil-based formulations – Is there a difference in efficacy?

How your CBD store can run 100% digitally in order to keep operations efficient and lean.
Spotify | YouTube | Soundcloud | Stitcher
Follow