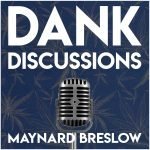 Arthur Gschwind is the Co-Owner and CEO of Q&A logistics, Indoor Vegan, and Infinity Strains. Residing in Aurora, Colorado, Q&A logistic's provide solutions for every part of the Hemp equation; Genetics, Irrigation, Soil Amendments, Transportation & Tolling, CBD crude, distillate, and isolate, flower processing and white labelling niche CBD products.  Arthur talks to our host about how he transitioned from working 12 years as a private banker to having his own cannabis business.
First, Art explains his experience with all different kinds of equipment and how it really got his mind wrapped around indoor grows. At the same time, a side effect of that was building his reputation with the supplier that he didn't even know was happening. In November 2012, people were already growing cannabis legally, at home. In his mind, what he has been thinking about his whole life is actually finally coming to fruition. In 2014, cannabis sales dropped in Colorado and he wanted to do something about it. Since his experience and access to really good equipment for cheap, he opened indoor vegan as an indoor grow supplying company.
Cannabis as a "Saving Grace" to Art's Dad's Life
After too many years of drinking, Art's Dad ended up in the hospital with pancreatitis. He made it through the first stage but it came back stronger. He meets a doctor who decides to fill him up with prescriptions. Although they calmed him down a bit, he was miserable and started gaining weight on top of it all. Later on, he found out that doctor got shut down on numerous accounts of selling medicines illegally. Even though he was off those pills that were destroying him, it didn't leave his body sitting right. He then started getting severe chronic anxiety attacks and didn't know what to do other than go back to a doctor to get more drugs. Art's dad hadn't smoked in ages, but when he tried cannabis it helped him beat that instance of anxiety. Just knowing that the weed would help him helped take the edge off. Seeing as his father didn't let anxiety control him anymore showed Arthur the medicinal side of Cannabis.
Challenges in the Cannabiz World
Arthur sees the hemp industry as a "new industry" because it's become legalized again. However, it is discouraging to flower buyers when farmers have a lackadaisical approach to their work. Arthur explains that everyone's been growing for 20 years, why would anyone want to play these steps by ear? One of the biggest challenges that Arthur see's in the cannabis industry is how people will be quick to pounce on opportunities without putting in the proper planning. Being a cannabis business owner in general has its unique perks, but like any business, there is structure to be followed.
3 DANK Points
Providing Soil to Oil solutions for the farming industry at large.

Creating a space where people can learn how to grow their own flower.
Learning to enjoy the struggles that come with owning a business.
Links
Does your cannabis, hemp, CBD company need to improve local or e-Commerce sales? Set up a time to speak with us at Calacann – Cannabis Marketing Agency (https://calacann.com/grow) to discuss how our digital marketing, search engine optimization (SEO), web design, affiliate/referral marketing or influencer marketing campaigns can help you. Home of the D.A.N.C. Method.
Spotify | YouTube | Soundcloud | Stitcher
Follow