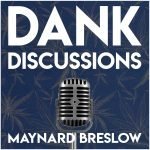 Beau Schmitt is the co-founder and the  CGO (Chief Growing Officer) of Sunday Scaries, a CBD company based in San Diego, California. They provide cannabis products to calm and relieve those frightening "beginning of the week" feelings. Beau talks about his journey, how he found himself in the cannabis business, and how he is helping millennial's with their mental health and, of course, the Sunday Scaries. In this episode, he dives deep into the importance of creating a message and branding that resonates with the market you are trying to reach.
Beau first tells me how he spent most of his time owning and operating bars. The most recent was Project Bar $ Grill, where he also met Mike Sill, the co-founder of Sunday Scaries. He says that owning and operating such a business with 50 employees and a restaurant was excruciatingly stressful. For this reason, they started experimenting with CBD in early 2017 after it was recommended to them by a friend. He says CND made them feel calmer and focussed. So they decided to start Sunday Scaries just as a side project for them and their friends. At the time, most companies were focussing on medicinal CBD for the Boomer generation. Beau and Mike saw a huge opportunity to fill the gap for the Millennials. So they started concentrating on products that could benefit the millennials.
Focusing On The Millennials
Beau notes that the Millennials face tough times due to the advancement in technology and social media. He says most of the issues facing this generation are their ability to see everything going on worldwide. The internet has connected them to many things, such as online dating, filtered versions of other people's lives, and many are facing a social dilemma. He says that the generation is going through a lot of stress, and having CBD products that could help them calm and have a better sleep is their key focus. He says that Sunday Scaries also has plans to educate this generation. They have formulated a research team and are working to build a community to share content on Social Media to allow customers not to feel alone by engaging and answering their questions.
The What and Why In Branding
Beau says that most companies that focus on the 'What' when marketing their products may do well during the first few years but may face difficult times progressing afterwards. He says focussing on the 'Why' side makes the audience understand the brand and feel connected. He says that even in marketing, the main focus is to build a community that people are part of and get them attached. This is why they have focussed on producing specific products for the millennials. Despite the noticeable success, Beau says challenges have been there. Most manufacturing companies do not want to work with CBD companies, and Financing is also an issue. He says they cannot receive credits through their bank, and their finances are constantly put under account. Besides, he says scalability has been one other big challenge. Big social media platforms do not allow advertising CBD related content. Beau says their company has plans to launch new products, website and run activations. They are also planning to intensify research on other products that are focussed on sleep.
"My Success is when I go to another city, and someone is like, Hey, I love your products, and I take them regularly."
3 DANK Points
The CBD industry has evolved from education-based to why-based
Brand personality is essential to success in an oversaturated CBD market
There are lots of opportunities in the industry for eagle-eyed individuals.
Links
Does your cannabis, hemp, CBD company need to improve local or e-Commerce sales? Set up a time to speak with us at Calacann – Cannabis Marketing Agency (https://calacann.com/grow) to discuss how our digital marketing, search engine optimization (SEO), web design, affiliate/referral marketing or influencer marketing campaigns can help you. Home of the D.A.N.C. Method.
Spotify | YouTube | Soundcloud | Stitcher
Follow