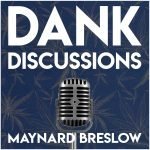 Brian Duncan is the founder of Field Laboratory Seven.  Their major research focuses on agricultural and renewable technology, with a great focus on the continued expansion and evolution of the Hemp and Cannabis markets. Most of Brian's background has been in software development, making lab instruments, systems for pharmaceutical companies and manufacturing facilities. In this episode, Brian talks about the "Legal For Trade" scales, product formulation development, and CBD products for dogs.
First, Brian talks about the culture, stigma, and legislation of Cannabis in North Carolina. North Carolina's market has been growing for a few years and has been very beneficial to farmers, helping to promote it and lowering the barriers of entry into agricultural markets. The Compassionate Care Act is making its way through the state legislature to legalize medical marijuana, and it has a lot of support from decent legislators. However, in the state as a whole, some people still hold a negative view of the cannabis and hemp industry.
Developing the Company
Next, Brian shares how he developed the Field Laboratory Seven. Brian's previous role was at Legal For Trade scales, where he developed an excellent touch screen deli scale. Over the past couple of years, the National Conference for Weights and Measures and the National Institute for Sciences Technology had a cannabis task group. The Weights and Measures Commission makes proposals for establishing regulations to solve many unknowns in the cannabis industry, for buying and selling, as well as having something consistent, resulting in a better product and more equitable transactions.
Brian began his official entry into the cannabis industry by researching scale restrictions. Then he moved to a hemp farm and altered his perspective on the world and the path he wanted to take. Field Lab Seven was born in this location. For the past few years, Brian has been studying all of the market's stakeholders, product processing, and phases.
The Legal For Trade Scale
Legal For Trade scales are designed to be super accurate, so there won't be any drifting of the weights. But in a commercial setting, it's not optimal for the retailer or the purchaser because there's a lot of unknowns.  The recommendations currently say that the scales need to go down to a 100th of a gram. The Cannabis Task Group with Weights and Measures has been trying to put together these roles to give to the National Institute for Science and Technology to publish for a larger standard once hemp became legal.
The Field Laboratory Seven
At Field Laboratory Seven, the focus is split between half with CBD product development and half with building new projects. It also goes along with Brian learning a lot of the emerging markets and the needs that the scale needs to meet to achieve more efficiency for the retailers. He is putting all his focus into product development and getting a more secure base, support building more machines, and more systems that will complement these markets. Brian's goal is to eliminate as many pain points as possible.
CBD for Dogs
The idea started when Brian's father asked him if CBD could help his dog. At 10 years old, she suffered with arthritis and couldn't walk up and down the stairs anymore. Within two days of taking CBD, her appetite came back and she could walk up and down the stairs again. It's a great way for Brian to see how CBD could benefit somebody else who couldn't lie to him.
"If I'm not passionately running towards my goals, I'm not going to accomplish them correctly."
3 DANK Points
North Carolina's relentless pursuit for legislative change in cannabis.

The Legal For Trade scale is designed to be extremely accurate, ensuring that the weights do not fluctuate.

How scientists and farmers are gaining more development experience in the cannabis industry.
Links
Does your cannabis, hemp, CBD company need to improve local or e-Commerce sales? Set up a time to speak with us at Calacann – Cannabis Marketing Agency (https://calacann.com/grow) to discuss how our digital marketing, search engine optimization (SEO), web design, affiliate/referral marketing or influencer marketing campaigns can help you. Home of the D.A.N.C. Method.
Spotify | YouTube | Soundcloud | Stitcher
Follow