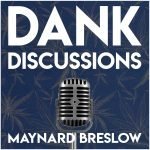 Carl Burwell Jr. is the CEO and Founder of Green Passion Industries based in New York City and Garden State Hemp which is based out of Millburn, New Jersey. Carl is an experienced business professional whose mission is to educate the community about the amazing effects and benefits of Cannabis. Carl talks with us about the importance of educating consumers about CBD and how a certain product can affect a specific individual.
First, Carl explains how he educates his customers about the therapeutic effects of Cannabis products. He shares his knowledge and experience to his customers about Cannabis in a very detailed manner and suggests products that certain types of products like oils, topicals, and capsules based on the customer's preferences, delivery method, and condition because every person is different and certain products react differently to every individual.
The Passion for the Industry
Next, Carl explains how he and his friend and business partner, Jonathan Rojas, started Green Passion. Carl knew that he wanted to start a business in the Cannabis industry so he and Jonathan educated themselves about Cannabis and started educating others about its therapeutic effects and benefits to remove the stigma about Cannabis.
The term "Recreational Cannabis"
Carl believes that any form of cannabis use is a form of medical marijuana whether the person using it has a prescription for it or not. He explains what the term really means and who can legally use Cannabis. With Garden State Hemp, Carl plans to bring new products and start to get their customers to try and experience CBD products in different ways. They plan to provide more educational information about Cannabis and reshape how consumers purchase Cannabis. As an entrepreneur, Carl believes that success is all about learning and being happy. And before you can be successful, you'll have to face challenges and obstacles before you become truly successful.
3 DANK Points
Consumer education is the key to knowing what products you are looking for and what is true or not about Cannabis.
Cannabis use is not accessible for everyone as it is only for the adult use market who can make adult decisions.
There's no shortcut to success but there is a shortcut to failure.
Links
Garden State Hemp's Website

Carl Burwell on Linkedin
Does your cannabis, hemp, CBD company need to improve local or e-Commerce sales? Set up a time to speak with us at Calacann – Cannabis Marketing Agency (https://calacann.com/grow) to discuss how our digital marketing, search engine optimization (SEO), web design, affiliate/referral marketing or influencer marketing campaigns can help you. Home of the D.A.N.C. Method.
Spotify | YouTube | Soundcloud | Stitcher
Follow