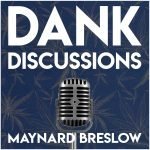 Caryn Kirchhoff-Herrera is a Coach, Esthetician, and the Owner of the Green Tea Spa. Based in San Diego, California, she is the front-runner in the promotion of CBD-infused massages in the psychedelic space. In this episode of DANK Discussion, Caryn talks to our host, Maynard Breslow, about the importance of communication towards emotional-relief, and how she found her vision of helping people towards a better life.
First, Caryn tells us how she was able to find herself again through the use of cannabis. She always knew its benefits on the mental health and how it helped her go through anxiety and depression. She believes that it is the key player that enabled her to be level-headed all the time.
Communication towards emotional-relief
Next, Caryn shares her thoughts on how communication is an avenue to relieve the turmoil within ourselves. She thinks that is okay to show our vulnerability, we should not deny the suffering we are facing from and it is one of the facets of being a human. She firmly believes that, it is up to the people who have learned and experience it, to share the ways to the people and free them from suffering any longer.
The Vision of Green Tea Spa
Helping people as the foundation, Caryn's goals never stopped on the emotional level. She believes that employees should not stay as an employee forever. Assisting them to build their business career and educating them how to move forward has always been her vision. With this vision in mind, it is crystal-clear that Green Tea Spa sets itself apart from its competitors.
3 DANK Points
The best approach to stay connected with your clients is by being personal.
Success can be defined as helping people without burning yourself out.
We have to be ok with not having it all together.
Links
Does your cannabis, hemp, CBD company need to improve local or e-Commerce sales? Set up a time to speak with us at Calacann – Cannabis Marketing Agency (https://calacann.com/grow) to discuss how our digital marketing, search engine optimization (SEO), web design, affiliate/referral marketing or influencer marketing campaigns can help you. Home of the D.A.N.C. Method.
Spotify | YouTube | Soundcloud | Stitcher
Follow