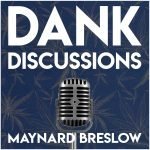 Daniel Woeck is the owner of Lifted Aloha. Lifted Aloha is a family-owned company that is passionate about formulating cannabis products with high-level intentions and organic CBD, sourced locally from the healing island of Hawaii. He joins me to tell his story of choosing the big island as his home and how this led to him opening Lifted Aloha.
Chasing materiality is fleeting; intentions in cannabis are everything
First, he shares how he became a cannabis user later in life, but how this has shaped his life ever since. Then, he states that helping others should be the first reason to be in any industry, but particularly in cannabis. Unfortunately, this industry has been recently filled with people whose sole goal is to turn a profit. They enter because they see an opportunity in the market, not because they love cannabis. It is not that making a lot of money from cannabis shouldn't be a priority, it must be done with proper intentions. Is it any wonder that so many well-funded companies are failing in this industry time and time again?
Leveraging Cannabis Marketing Regulations in Your Favor
Furthermore, we deep dive into how to properly brand and market a cannabis company with strict regulations in place. In that regard, he explains why brands should never remain stagnant. He talks about how important it is to remain flexible while conveying your message and making sure to implement feedback from mentors and customers. Most importantly, we discuss the ways to bring massive awareness to your brand. Unlike other industries, this has to be without spending a dime on Facebook and Google ads. Not only are we not allowed to spend on these ads, but it is a wonderful thing because it creates a level playing field.
3 DANK Points
"Mama Ganja" chooses who stays and goes, not the amount of capital you have.

Why not being able to run ads is an absolute plus in the cannabis industry.

How to get traffic to your e-commerce site in these troubled times.
Links
Spotify | YouTube | Soundcloud | Stitcher
Follow