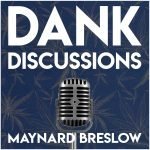 Diana Peña is the CEO & Co-Founder of Myriam's Hemp. Based in Las Vegas, Nevada, Myriam's Hemp aims to deliver natural hemp products with no artificial or synthetic ingredients added to maximize the plants incredible healing properties. She joins me on this episode to speak about how her mother's diagnosis with a glioblastoma brain tumor led to a race to find a natural solution.
Formerly based in California, Myriams Hemp moved to Las Vegas due to the high taxes, manufacturing issues, and immature government policies in the golden state. Getting licensed was a challenge for Diana, and she found it disheartening that small companies like hers can barely get qualified for licensing without having the right finances or connections.
The Race to Find a Solution
Diana's mother, Myriam, was diagnosed with glioblastoma. It is known to be one of the deadliest forms of brain cancer due to its aggression and resistance to treatments. Although it can be removed, the location of her mother's brain tumor made the doctors unable to operate. Coupled with a poor prognosis of living three to six months even with treatment, Diana was at her wit's end to do anything and everything to help her mother. After coming across studies on cannabis-infused chemotherapy for glioblastoma and brain tumors, this was the light that Diana found in the dark. When the doctors decided to take a break from Myriams chemotherapy, Diana knew that she couldn't sit around and do nothing. She decided to give her mother about two grams of cannabis oil daily. After months of consumption, her mother's tumor shrank up to less than a centimeter, and that marked Diana's epiphany that cannabis was more than what it seemed to be.
Continuing Myriams Legacy
Although Diana was able to help her mother live for some time, she knew that she couldn't curb nature's course. Everything went downhill when the doctors decided to stop her mothers steroid intake. The sudden change made it hard for Myriam to adjust, and she wasn't able to take the same amounts of cannabis oil as before. Myriam's health started to decline even further after a few months, and the tumor came back alive and stronger. Unfortunately, Myriam passed away in 2014. Although it was painful for Diana, it did not stop her from continuing her mothers legacy. Diana knew that cannabis was not a miracle plant, although people say otherwise. What she did know was that it has anti-tumor and anti-cancer effects. Even though it cannot save people's lives, it can help alleviate the suffering.
A Different Kind of Hemp Company
Myriam's Hemp works with various doctors in different states and even with the Cannabis Nurses Association. They partnered up with them to offer free consultations and educate people about the healing properties of cannabis. Myriam's Hemp does not solely focus on CBD, but also on other cannabinoids like pure CBG and pure CBN. Although other companies offer CBG and CBN products, they are usually mixed with CBD. Myriam's Hemp aims to educate people on the difference between isolates and full-spectrum. Some of their core lessons include why one product is better than others, how CBG and CBN work, and how mixing certain terpenes each have different effects. Diana strongly believes that misinformation is a prevalent phenomenon in this industry. Many people think CBD is a "one drop miracle," where one drop is all it takes "to do the thing." But that's not true at all! Finding the right dosage for your condition is very important. This very reason is why Diana believes it is her job to educate people, along with medical professionals, to change these common misconceptions and somehow change the stigma towards CBD.
"Success for me is being able to help people while maintaining integrity and delivering quality products. Success is also seeing the happy faces of the people who see the positive effects of Myriams products. I never gave up because I never lost hope. Now, I never want to stop helping people."
3 DANK Points
How her mother's diagnosis with a glioblastoma brain tumor led to the race to find a solution. 

Moving her cannabis business out of California due to increased taxes, prices and regulations.

Transitioning from a cannabis company to a hemp company in order to help more people.
Links
Does your cannabis, hemp, CBD company need to improve local or e-Commerce sales? Set up a time to speak with us at Calacann – Cannabis Marketing Agency (https://calacann.com/grow) to discuss how our digital marketing, search engine optimization (SEO), web design, affiliate/referral marketing or influencer marketing campaigns can help you. Home of the D.A.N.C. Method.
Spotify | YouTube | Soundcloud | Stitcher
Follow