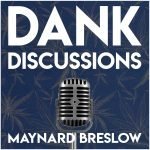 Dwayne Madden is the owner of Hemp House in Chattanooga, Tennessee, a cannabis-related product line that has seen tremendous growth since its inception in October 2017. Hemp House supports the local community of farmers and consumers of cannabis products in Chattanooga and educates its population to remove the existing stigma around hemp consumption.
First, Dwayne talks to our host about how we was introduced to cannabis. He started smoking between 15 and 16 years for medicinal purposes. After being diagnosed with ADHD at 14, he started taking Adderall, a "horrible drug" that he did not like. Every other medication prescribed to him also had similar effects as Adderall, making him quit taking them and resolved to smoke Marijuana. Dwayne says he did this in secrecy and with no guidance at that time due to the stigma that was associated with it. Next, Dwayne discusses how he began the Hemp House, his community and state's roles in supporting the industry, the challenges during the pandemic and how they have adapted, and the way forward. Dwane begins by admitting the potential his State of Tennessee has in influencing the Cannabis industry in the United States soon. With bills passed to support the local farmer and the consumers in the state, many are now welcoming the idea.
Tennessee's Hemp Laws & Conservative Views
In 2014, inspired by Tennessee's State to begin the Hemp program, Dwayne was ready to move into the legal state. Having a feeling that this is what he would do in the future, he started attending meetings and events organized for Hemp education. In 2017, after attending the Hemp History Week Meeting, where he met many hemp farmers and business people, Dwayne was inspired and set his first foot in the industry. Today, the business has opened stores in 3 different locations in the Chattanooga Area. Most issues, especially the cannabis-related ones, are having challenges to be passed because Tennessee is not a ballot state. The voters, although they have welcomed the idea of marijuana consumption, cannot vote. The representatives who vote are super conservative on the old ways and are not open to the new norm. The majority support the legalization of cannabis in the state, and if they get more education about the substance, like other states, they should be let to decide through the ballot.
Hemp House and Their Incredible Community
Hemp House supports local farmers directly and without involving brokers. All their products are made from locally sourced cannabis plants. Dwayne says that consumers are more aware and can relate to the product they are consuming. It also helps in lifting the community to compete with others that are doing well. The business has also partnered with the Local Autism Community and has helped many families and parents who have used cannabis products as a last resort. They have helped keep the autistic children stay focussed and calm without causing trouble to themselves or others.
Better Regulations & The Way Forward
Today, the Department of Agriculture in Tennessee has partnered with hemp agricultural farmers, and now anyone can grow hemp for personal use or create their product line. They also created a panel and discussed how they could make hemp farming in Tennessee a success. People are now taking advantage of the better regulations without being harassed and are now farming the plant in their backyards. COVID-19 also made some stores to be closed but have reopened, and customers are allowed back in. However, the business adapted through the period by offering delivery services and engaging with customers online. As the economy is reopening post-pandemic, Dwayne hopes to get involved on every level by helping businesses that need assistance to reopen, attend meetings, and offer advice. He hopes that by this, he will reach many people and make a new relationship. He also wants to be a resource to other people who are struggling to start a hemp business.
3 DANK Points
Transition and adaptation are essential for business survival during tough times.
The stigma behind cannabis consumption can only be removed by educating the public and creating awareness about the product.
Cannabis business success requires joint efforts between the community and the state regulations.
Links
Does your cannabis, hemp, CBD company need to improve local or e-Commerce sales? Set up a time to speak with us at Calacann – Cannabis Marketing Agency (https://calacann.com/grow) to discuss how our digital marketing, search engine optimization (SEO), web design, affiliate/referral marketing or influencer marketing campaigns can help you. Home of the D.A.N.C. Method.
Spotify | YouTube | Soundcloud | Stitcher
Follow