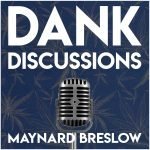 George Hodgin is the CEO of Biopharmaceutical Research Company (BRC) and a former US Navy Seal. Based in Castroville, California, BRC is a fully licensed, federally compliant, and recognized company wholly focused on cannabis research and development. George and his team are on a mission to research cannabis as an alternative medical treatment for military veterans. Today, George teaches us more about how cannabis can help alleviate a veteran's health, what made George transition from Navy to becoming a CEO, unveiling the potential of cannabis, and the bureaucracy of cannabis.

First, George had a calling to be a part of the Navy. He described his experience as "an honor of a lifetime" where he wants to be a part of something impactful even if things are challenging and tumultuous. After seeing the effect of cannabis on a fellow veteran, George was invigorated and found his new purpose in life—uncovering the hidden potential of cannabis for medical use and treating post war trauma.
Veteran's Health
George explained that the military has a zero-tolerance policy towards the use of cannabis. George founded the BRC to show the federal government, by extension the military, that there is a tremendous medical value for cannabis, and they don't have to be restrictive with it. George found out that 92% of military veterans want the federal government to look more into cannabis as an alternative treatment for chronic pain, depression, and post-war traumas.
He further elaborated that at least 33% of the veterans associated with the 9/11 tragedy use cannabis to treat their wartime wounds. What does this entail? It means a call to open up new avenues for treatment beyond what's currently available. George believes that this number will only go up as many veterans show the positive effect of its use.
Bureaucracy of Cannabis
Why does the government take so long to recognize the power of cannabis? George believes that everyone from the federal government and academic researchers knows it, but cannabis is so big that they move slowly. He believes that the bureaucracy impedes its "quick" resolution because there is no master plan to deal with cannabis, and it's also controversial.
George further added that the National Institutes of Health (NIH) provided $400 million over the past several years to study cannabis. This further accentuates his belief that the government knows cannabis' potential, but there are more factors in place that needs to be considered before things will be set into motion.
Teamwork
As a federally compliant and recognized company, BRC is fully approved by the Drug Enforcement Administration (DEA) to import, export, distribute, cultivate, and manufacture cannabis products for scientific research. With George accompanied by a talented team that is equally purpose and mission-driven, they can inevitably transcend boundaries and break the stigmas surrounding cannabis use through their research and studies.
"We owe our military veterans every opportunity to treat the wounds they suffer on behalf of our country."
3 Dank Points:
Many veterans choose opioids over cannabis simply because they are still federally illegal.

Bureaucracy is one of the main culprits that impede or prolong government policy changes.

Continuous research proving the positive effects of cannabis can break the stigma surrounding it.

Military veterans recognize the use of cannabis to alleviate post-war traumas.
Links:
George Hodgin's LinkedIn: https://www.linkedin.com/in/georgehodgin/
George Hodgin's Website: https://www.biopharmaresearchco.com/
Does your cannabis, hemp, CBD company need to improve local or e-Commerce sales? Set up a time to speak with us at Calacann – Cannabis Marketing Agency (https://calacann.com/grow) to discuss how our digital marketing, search engine optimization (SEO), web design, affiliate/referral marketing or influencer marketing campaigns can help you. Home of the D.A.N.C. Method.
Spotify | YouTube | Soundcloud | Stitcher
Follow