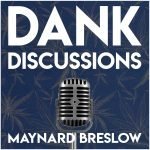 George Irwin is the Founder and President of Green Living Technologies International and GLT Cannabis in Atlantic City, NJ. He is recognized as the leading figure within the global green movement. For over twenty years now, Irwin has championed the use of technology in designing and manufacturing green roofs, walls, and vertical farms. Through GLTI Vertical Cultivation System (VCS), he is shaping the medical and recreational cannabis industries.
Irwin first tells me about using technology to cultivate and harvest the best cannabis, while also using environmentally friendly and energy-efficient resources. He also talks about the key values for their business operations and obstacles, and reveals his thoughts about cannabis becoming recreationally legal in New Jersey. 
Getting The First Foot In The Cannabis Industry
Irwin says it wasn't about cannabis. He says that his company got involved with medical flora long before cannabis when they helped a friend grow Artemisia ( Sweet Annie) which she used its components to create a drug that cured Malaria. Irwin has never smoked or consumed cannabis products until today, but his firsthand experience with it changed his perception of the plant's culture. He says that he first got involved with cannabis in an unfortunate circumstance of his son, a cancer survivor, who used to apply cannabis oil as part of his treatment. But George had a concern; he believed that cannabis was not being produced like a natural medicine and that it wasn't done to have a clean and the best outcome. For this reason, his company entered the industry, intending to make the changes, just like what they do with vertical farming.
Controlling the environment to impact the outcome
Irwin believes that for one to produce the cleanest cannabis, controlling the environment is key. He has seen other cultivators, especially on a large scale, growing where they have incredible water wastage, energy resources, and pollutants. Their company has built one of their large-scale basal farms designed to have zero wastewater, biomass and re-use all the organic materials. They have focussed on organic-based growing media whereby everything is recycled to help them apply less environmental controls and low energy.
Irwin says that anyone can produce cannabis, but it takes a talented and technologically understanding of the ability to produce a consistent crop every single time. Their company has set up a state-of-the-art tissue culture operation to provide the absolute best genetics that grows the best. Besides, they also help cultivators conduct initial testing for viruses and fungi in their genetics and then later assist them in cleaning them using a meristem harvesting technology. 
Cannabis Is A Culture
Although there are several differences between the first-generation growers (experienced old-time cannabis growers) and the second generation (rely on science and technology), Irwin says there is still a lot to learn that both sides can share. Despite not being a consumer of cannabis, he has an open mind and willingness to collaborate in the industry. He believes that everybody is involved in the industry for one reason or another. He says that their retail shops are always excited to provide experience, orientation and share their values with others.
"It's not just about making money. It's about sharing success and providing others opportunities to succeed."
3 DANK Points
Making sure you are sourcing funds from people who have the same values as you.

There's a lot to learn from the old-school and technologically advanced cannabis cultivators.

When entering any industry, focus on creating better solutions.
Links
Does your cannabis, hemp, CBD company need to improve local or e-Commerce sales? Set up a time to speak with us at Calacann – Cannabis Marketing Agency (https://calacann.com/grow) to discuss how our digital marketing, search engine optimization (SEO), web design, affiliate/referral marketing or influencer marketing campaigns can help you. Home of the D.A.N.C. Method.
Spotify | YouTube | Soundcloud | Stitcher
Follow