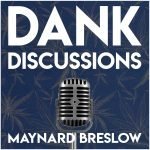 Heather Lawson-Bradfield is the Owner of TAG, Totum Advising Group. Heather joins us on this newest episode of Dank Discussions to tell us how cannabis reform is important in communities who are unable to vouch for their equality in the cannabis industry.
3 Dank Points
Getting support to run a company the right way through infrastructure.
Supporting the under-funded communities with equal access to cannabis.
How to look for predatory investors who ALWAYS have a catch in their deal.
Spotify | YouTube | Soundcloud | Stitcher
Follow