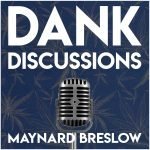 James Coscina is the CEO of New Hope CBD. Based in Kerrville, Connecticut, New Hope CBD is one of the first processors and manufacturers of hemp in Connecticut. Before moving to the East Coast, they were a minor partner with a recreational marijuana facility in Maine. Due to new regulations with cannabis on the East Coast, they went on board and never looked back ever since. Today, James talks to our host about how the recreational legalization of cannabis shook the East Coast industry, the pricing mechanisms of cannabis products, and what the future of the cannabis market looks like in Connecticut.

First, James shared how the situation evolved when the Department of Consumer Protection and Department of Agriculture had chosen to open up the legalization of marijuana in the East Cost. The mixture of strong regulations in the Connecticut market triggered various businesses and farmers to join in.
Startups VS Legacy
With deregulation and decriminalization of marijuana, it is inevitable how attractive it is to build a business. As a startup, it's wishful thinking to compete directly against those with vast experience in the cannabis space. James explained that startups should not put too much markup on their pricing as they have still yet to establish credibility, experience, and reputation.
James says, you shouldn't compare yourself to legacy growers who have been in the cannabis space for a long time. They have the reputation, the market, numbers, strategies, and finances to back up their claims. Most importantly, they have the "genetics" as a result of countless trials and errors.
The Future of Cannabis
New Hope CBD's biggest obstacle is management and communication. Finding capable employees is an issue James has to deal with, especially if they work with distribution. At the same time, if you want to retain your partners, it is crucial to communicate with them frequently, assuring them that you are present. Otherwise, you will lose them.
James' personal issue is relinquishing his duties and delegating them to others without inhibitions and worries. As the company owner, he is the face of the company. In turn, delegating those tasks to others means they become the face of the industry as they communicate with clients most of the time. With too many players in the market, this growing industry will become fiercer, and the lookout for talents will become harder.
James observed how various distributors and manufacturers keep on shoving "stronger" products to the consumers. He believes that they fail to recognize the "mood" of the consumers. Do consumers want stronger doses all the time? They don't. As more people become educated about deregulation, they'll be more conscious and attentive to what they want and how much they want with the products they consume.
What is Success?
For James, success is life balance and progression. If it caters to his personal goals, he'll gladly take one step at a time and celebrate small wins. Success doesn't come in one fell swoop but in marginal increments. Even if you completed a tiny percentage in a day or week, your goal in life would eventually be realized.
"If you're not ahead of everybody, you're gonna be behind everybody."
3 Dank Points:
Education is crucial for people to accept the concept of decriminalization of cannabis.
Justified pricing is more than just the cost of your products, it's your reputation and credibility.
The deregulation of cannabis sparks massive market interest for distributors and farmers.
Links
Does your cannabis, hemp, CBD company need to improve local or e-Commerce sales? Set up a time to speak with us at Calacann – Cannabis Marketing Agency (https://calacann.com/grow) to discuss how our digital marketing, search engine optimization (SEO), web design, affiliate/referral marketing or influencer marketing campaigns can help you. Home of the D.A.N.C. Method.
Spotify | YouTube | Soundcloud | Stitcher
Follow