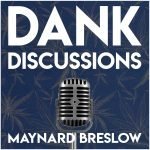 In this episode, Jennifer Boozer shares her powerful story of coping with tragic personal loss which led to opiate addiction and her subsequent recovery from addiction to opiates using the help of CBD. She has turned tragedy into triumph with a thriving business that remains the number one CBD store in her state. Finally, she is excited to share the launch of her new CBD eCommerce platform, with web design and marketing using the DANC Method.
CBD Helped Jennifer Battle Opiate Addiction and Gain 5 Years Clean.
Jennifer Boozer is the owner of CannaBama, Alabama's first and largest CBD super store in Alabama, based out of Mobile. CannaBama sells only vetted, quality CBD products & other hemp products in South Alabama and to all 50 states online. Jennifer enjoys educating people about CBD from hemp and hosts a weekly live radio show & podcast called Sweet Home CannaBama on FM Talk 106.5.
3 DANK Points
5 Years Clean From Opiates with the help of  CBD

Overcoming stigma in the South and in church. "People won't look me in the eyes."

The challenge of having to change payment processors and merchants on a consistent basis
Spotify | YouTube | Soundcloud | Stitcher
Follow