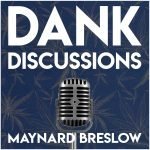 Josey Orr is the CEO of HUGS Wellness, a small CBD company based out of Austin, TX. Hugs was created with two goals in mind: to bring a new standard of transparency to the CBD industry and to deliver high-quality products to customers. In this episode of DANK Discussions, Josey talks to host Maynard Breslow about social entrepreneurship and the importance of creating a CBD business with the intention of giving back.
From Early Sobriety to CBD
First, Josey tells me about his journey into sobriety with the help of CBD. With over almost 10 years clean using the help of a 12 step program as well as CBD, Josey is passionate and proud of his recovery. During the time he first started getting sober, he had trouble sleeping and problems with generalized anxiety. Since he was sober from all mind-altering substances, he didn't want to be prescribed anything that would be habit-forming. With all of the stigma towards addiction and vulnerability, people view recovery in different ways. Josey admits that 12-Step programs do not have a monopoly on sobriety.
While living in LA, he heard about CBD from a friend. After trying it for the first time, he found that it was very effective in helping him sleep better and feel less anxious. Josey says that he has found that the stigma associated with Cannabis is very similar to the stigma associated with recovery. For many people, cannabis is a very positive thing in their life. Even as someone who is sober, Josey says that he has always looked at cannabis in a positive light. When he tried it and it worked for him, he started investigating more about the industry. When the 2018 Farm Bill passed, Josey decided that he wanted to create a CBD brand that was accessible to everyone as opposed to something processed and medical.
1000 Beds & The War on Drugs
With his CBD journey leading him to creating his own business, Josey sought to place the focus on social entrepreneurship. That is, Josey wanted HUGS to be a mission-driven brand. He explains how people in this day and age are more likely to support brands that have social missions. Having been in a low place himself, Josey knew he needed to give back. As an active member of the recovery community, HUGS gives back to organizations such as 1000 Beds that helped people like Josey get on the right path. 1000 Beds matches people up with scholarships to get into rehab centers. They also pay for the clients' airfare to get to the rehab as well as any of the medications they need in the first month of treatment. Josey believes that rehabilitation is a much smarter and healthier play instead of incarceration.
That led us to talk about the War on Drugs. As it is well documented, the War on Drugs was all about big businesses and disproportionately affecting people of color. Putting non-violent offenders behind bars must end. By using his brand to raise awareness for organizations like 1000 Beds, he aims to help more people get the help they need instead of being sucked into the system. 
Products with Honesty and Transparency
Navigating the world of cannabis and CBD is very overwhelming. As a consumer, how do you figure out what is of high quality, and what is of poor quality? Building a brand isn't just about marketing; it also means taking care of the quality of your product. Since HUGS entered the market during a time when fraudulent brands were getting outed, Josey wanted to make sure his products weren't just third party tested but were held to higher standards. 
The best way to grow a company and improve upon your product offering is by talking to your customers and relating to them. Many companies don't do this enough because they struggle with being vulnerable and being afraid to hear something they don't want to hear. If you own a company, you have to be able to change based on what your customers are telling you. Josey strongly believes that where you spend your time and money contributes to the society you want to live in. Due to the way cannabis laws have negatively affected so many people, CBD and Social Entrepreneurship must be closely tied together. With HUGS Wellness, Josey hopes to continue his mission of promoting conscious care and self-love. 
3 DANK Points
The importance of giving back to charities you believe in, especially when so many are still incarcerated while the industry prospers

Owning a business is always hard whether it's in cannabis or any other sector. The key is to keep going.

Building a brand isn't just about marketing; it's about ensuring the quality of your product.
Links
Does your cannabis, hemp, CBD company need to improve local or e-Commerce sales? Set up a time to speak with us at Calacann – Cannabis Marketing Agency (https://calacann.com/grow) to discuss how our digital marketing, search engine optimization (SEO), web design, affiliate/referral marketing or influencer marketing campaigns can help you. Home of the D.A.N.C. Method.
Spotify | YouTube | Soundcloud | Stitcher
Follow