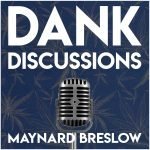 Kim Meloy is a cancer survivor, a health and wellness coach, and the manager and cannabis educator at WSC. WSC believes in educating people on how Cannabis and other similar plant medicines can help them with their own health. Kim is proudly trained and certified in Cannabis at Cannabis Training University. Although she has only been in the industry for one year, her own cancer battle introduced cannabis to her three years ago.
Kim joins me to tell us her powerful story and experience with cannabis on her journey through cancer. First, we talk about the many negative stigmas surrounding cannabis in the medical industry. Kim believes that people who need cannabis deserve to have it, but most importantly learn about it as well.
Moreover, people should understand what kind of products they're taking, why they're taking them, and how that product can help them. At WSC they make it a priority to go out into the community and educate people more about cannabis. As a health and wellness coach, Kim educates people about her unique regimen of using cannabis for pre-workout, post-workout, and recovery.
Next, we talk about
her goal of educating people about Kratom. Although Kratom and cannabis differ in many ways, both find similarity in having many different strains. Essentially, Kratom is a plant medicine that associates with the body's opioid receptors. Its main strain popularly helps drug addicts ween off of hard drugs such as heroin during their
recovery
. From experience, Kim shares with me how Kratom helped her find relief from pain in her bones during her cancer treatments. Just like cannabis, there is a negative stigma towards Kratom. Kim strongly believes that people only need to have the proper education on how to use Kratom safely and healthily in order for it to serve its purpose.
Chemotherapy destroyed her and Cannabis became her only hope.
Lastly, we deep dive into Kims' inspiring story about her journey through cancer. In November or 2016, Kim was diagnosed with stage 3 triple-negative breast cancer. She whole-heartedly thought that chemo was the only cure and it was failing her miserably. She tells me how the doctors were aggressive in making her take heavy doses of chemotherapy medicines, and that it did not make sense to her. Eventually, Cannabis came in as her only hope in finding relief. After receiving such forceful medical care and negative stigma around using cannabis, she took action. Kim took it upon herself to make WSC's main goal in educating clinicians, nurses, physicians about cannabis, and how it can help cancer patients find relief. By putting herself in her patients' shoes and to be such an incredible role model for them, she feels blessed and grateful to be making such an impact in the industry. 
Surviving cancer with the help of Cannabis and Kratom.

Using cannabis for health and athletics; for pre-workout, post-workout, and recovery.

In the natural way of things, people are continuing to live in the cycle of deep stigma.
Links
Spotify | YouTube | Soundcloud | Stitcher
Follow