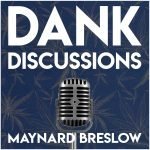 Kristen Yoder is a veteran of California's cannabis industry with professional experience in retail, growing, distribution, marketing, and management. She is also the host of CannaBS Podcast and the CEO of the cannabis business firm, Soil To The Oil. Kristen is passionate about spreading awareness about the ongoing manipulation that some players are conducting in the industry. Kristen has also been featured as a public speaker in Vanity Fair, Forbes, and USA Today.
Through soil to the oil, Kristen teaches consumers how to ask for more transparency from their favorite cannabis brands. Kristen was also named in Marijuana Venture Magazines "40 Under 40 Rising Stars of Cannabis." In this episode, Kristen uncovers and dissects several pitfalls that consumers and business owners encounter along their cannabis journeys.
Getting into the industry
In 2005, Kristen started her journey in the cannabis industry as a bud-tender in one of the first dispensaries in Venice, California. During this time, only a few dispensaries had been established in California's landscape.Two years later, more than a thousand dispensaries had been established. Kristen then talks about the strict regulations during that time that made business operations so difficult. This made her retreat and she started growing cannabis instead. She later reached out to her friends who worked at edible company called Venice Cookie Company in California, which was one of the largest edibles companies back then. She then started working in Supply Chain management before quickly rising to Product Development. While working in the product development sector, they served more than 1000 dispensaries in California and helped start an edible recreational company in Washington called Evergreen Edible. Kristen says she had fun working for the company until it unfortunately collapsed after being raided twice.
Nipping BS in the Bud
After Venice Cookie Company's collapse, Kristen worked at Evergreen Herbal to provide extra testing and product development services. She learned that Indica, Sativa, High bud, amongst others, are all just perceptions that are believed to be facts. She worked there for a year before she tried consulting.  She later realized that it was not why she got into the industry and decided to become a strategic advisor and focused on being an entrepreneur in a different niche. She believed becoming a strategic advisor was the only way to save entrepreneurs from making costly mistakes. In 2017, when California voted for Prop 64, she decided to quit working with cannabis companies and updated her LinkedIn profile as a BS detector. It sparked some attention, and she chose to adopt it and later created her CannaBS Detector podcast. Her podcast aims to shine a light in the dark and fix the scams many companies in the cannabis industry are practicing.
Being part of the solution
Although she talks about several aspects that most are afraid to speak of, Kristen believes she's providing the much-needed education and knowledge in the industry. While her podcast mostly focuses on the industry's negativities, she admits she doesn't like talking about it. She insists that there has to be someone to talk to the employees, farmers, and consumers. As part of the solution, she conducts teaching classes to encourage critical thinking and BS detection. For example, how certain companies are using packaging to influence consumers, who believe everything they read on the back of the bottle. Kristen does still believe that there are some positives in the industry and passionate people who want to deliver quality products.The media and the internet have been critical players in spreading knowledge, and the challenge is to know what is true and false. She is hopeful that people will wake up and see the BS on social media sites and hopes that the executives are learning from these posts.
"My success is waking up every day excited to keep going. It's sleeping well at night. It's knowing that you are doing the best that you can."
3 DANK Points
How and why certain companies manipulate their consumers.
The need for collaboration between new players and the pioneers.
Consumers need to demand transparency from brands.
Links
Does your cannabis, hemp, CBD company need to improve local or e-Commerce sales? Set up a time to speak with us at Calacann – Cannabis Marketing Agency (https://calacann.com/grow) to discuss how our digital marketing, search engine optimization (SEO), web design, affiliate/referral marketing or influencer marketing campaigns can help you. Home of the D.A.N.C. Method.
Spotify | YouTube | Soundcloud | Stitcher
Follow