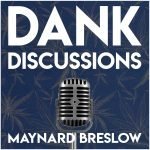 Madison Margolin is the Journalist featured in Rolling Stone and Vice magazine among others. Based out of California, she is the cofounder and managing editor of DoubleBlind Magazine. She specializes in covering topics such as psychedelics news, mental health tips, and the fight for environmental justice and social equity. In this episode of Dank Discussions, Maynard and Madison discuss how the world of psychedelics so closely intersects with the ever-growing world of cannabis and hemp.
Madison comes from a family who has immersed themselves into the spiritual realm of psychedelics, cannabis, and other plant based medicines for her whole life. As well as an influence from eastern religions such as Judaism primarily, Hinduism, and the teachings of Ram Das. She describes growing up with two parents who were "pot smoking hippies" as not the easiest feat. Her dad, Bruce Margolin, is well known as a powerhouse in the fight for drug policy and reform. During Madison's childhood, she watched her dad work as a criminal defense attorney specializing in cannabis. Most of her family conversations were either about the war on drugs or the drug reform movement, making it very difficult for her to have a "normal" life as a teenager. Although she tried incredibly hard to push her upbringing away in middle school, she now finds herself in a completely new realm giving back to the world as a passionate writer about those very topics that once made her life feel like a bad trip.
Stepping into an Elevated State
The gift of stepping into an altered state and doing something with it is incredibly high-level thinking. Madisons transition into her passion for writing about and immersing herself into psychedelics did not come solely from her upbringing. As stated above, she became resistant to it due to the impact it had on her during her childhood. She describes that it all started at a Hindu chanting retreat that her parents brought her to during her last year of middle school. Her first relationship was with someone who also had parents who were in the Ram Das community, similar to Madisons parents who were very well known at these types of events. Despite having parents who were also well versed in using psychedelics and cannabis to elevate themselves in a spiritual way, this person was not resistant. He accepted his parents for who they were and this inspired Madison to reconcile with the environment she grew up in and the philosophies her parents raised her with. A few years later, she found herself at Berkley College writing her first research paper about psychedelics.
Rituals, Traditions, & Psychedelics?
There is a big gravitational pull towards eastern religion. Madison explains that we have lost touch with most of the real traditions and rituals of those eastern religions. In Judaism, the ritual of the high priests immersing themselves into a hotbox of cannabis and acacia wood (which is high in DMT), have been buried over time. However, Jews have kept the tradition of entering an altered state within the practice of keeping shabbat; this means removing ourselves from the "working" world for twenty-five hours a week. Madison explains that there are different ways to do the same thing, whether you're doing it in a religious way or an agnostic way. Being able to be high spiritually when you are not high physically allows us to see the world through different lenses.
The Intersection between Cannabis & Psychedelics
Lastly, Madison explains that there are two sides to the coin where cannabis and psychedelics meet. The first is on a scientific level and the second is on a cultural level. The multidisciplinary association for psychedelic studies (also known as MAPS) was founded in the 80s. During the 90's, they started researching and doing experiments with different psychedelics to treat certain medical conditions such as trauma, depression, and ADHD. Madison herself wants to start a movement called "set & set it"; understanding your environment and mental state when doing psychedelics. She hopes that it will become known in the future as well as "don't drink and drive" is today. However, with regard to psychedelics, It's hard to have honest conversations when there is a stigma attached to it. On the cultural side of things, festivals of spiritual awaking such as Burning Man are becoming more mainstream. On both of these sides of the coin, Psychedelics are being seen as similar tools for wellness, growth, and healing. With DoubleBlind Mag, Madison's goal is to use psychedelics as the jumping off point to discuss mental health and spirituality among many other things. She hopes that one day our society will find success in the balance of living well, while using what God gave us to serve the world in the best way possible.
3 DANK Points
Psychedelics and cannabis will show you the way, but they are not the way themselves.

California's traditional cannabis market is thriving, while the legal market isn't thriving as much as it should.

Psychedelics and Cannabis are not magic potions; If you don't put them into a ritual or a practice, then you're not using them to their full potential.
Links
Does your cannabis, hemp, CBD company need to improve local or e-Commerce sales? Set up a time to speak with us at Calacann – Cannabis Marketing Agency (https://calacann.com/grow) to discuss how our digital marketing, search engine optimization (SEO), web design, affiliate/referral marketing or influencer marketing campaigns can help you. Home of the D.A.N.C. Method.
Spotify | YouTube | Soundcloud | Stitcher
Follow