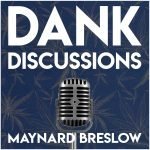 Matt Dubow is the President and founder of My CBD Mall, a company based in Newport Beach, California that offers the platform for several CBD brands to sell their CBD products in the United States. He is also the owner of Sorta Stuff Promo, which provides all the promotional items such as shirts, bags, hats, and packaging for your business
In this episode, Matt shares his journey, why he entered the industry, some of the major obstacles My CBD Mall has faced, and the plans for the company. Tune in to listen to these and more interesting discussions.
Joining the CBD Industry
While working with a brewing company, Matt got involved with CBD when one of their investors talked about infusing their beers and sodas with Cannabis. An investor, who was already in the CBD industry, also told him about the benefits of cannabis and how people used it for different conditions such as cancer, tumors, and depression. Being curious and eager to know more about CBD, Matt dived into deep research and even started trying some products to help his muscles. This was the birth of My CBD Mall. He started the company just as a side hustle but later put a lot more focus when people and friends started making orders.
CBD is made for everyone!
Matt is shocked that more of his customers are 50 years and above. He says he expected more younger people to lead the way. He also says many of his customers are from California, where he is based, but he receives orders from other states. My CBD Mall operates like Amazon. It is an online shop that provides a platform for several Cannabis brands to list their CBD and THC products to buyers. Products listed are in different forms, such as chocolates, candies, cookies, coffee, proteins, cream for the face, and so much more. He says CBD brands have become more creative in incorporating cannabis into daily life.
Obstacles and Moving Forward
Matt says that the major challenge the business has faced so far is when PayPal shut him down when he had a lot of money in the account. Facebook also closed down his ad accounts and affected his other businesses. The future is promising for Matt and My CBD Mall. The company is building a facility that will deal with cannabis products from seed to sell and delivery services. The building is almost complete and should soon be operational. The company is also looking forward to adding more brands to their marketplace and provide a variety of different products from different brands for customers to choose from.
"My success is when I can take care of my friends and family. I truly enjoy helping people."
3 DANK Points
Cannabis has been introduced into different aspects of our daily lives.
There are still challenges in selling and marketing CBD products
Cannabis products are being used to help with various conditions

.
Link
Does your cannabis, hemp, CBD company need to improve local or e-Commerce sales? Set up a time to speak with us at Calacann – Cannabis Marketing Agency (https://calacann.com/grow) to discuss how our digital marketing, search engine optimization (SEO), web design, affiliate/referral marketing or influencer marketing campaigns can help you. Home of the D.A.N.C. Method.
Spotify | YouTube | Soundcloud | Stitcher
Follow