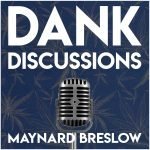 Matt Kowalis is the founder of Serenity Medical CBD, a wellness company that is based in Detroit, Michigan. After his mother passed away from Leukemia in 2012, Matt suffered from post traumatic stress and anxiety. While trying to find a natural remedy, he came across CBD and has since been dedicated to spreading awareness about the plant that changed his life.
In this episode, Matt shares his personal story, what drives him to keep pushing his brand, tips to survive in the industry, and some of the key lessons he has learned as an entrepreneur. 
Serenity in Cannabis
Matt has been in the cannabis industry since 2009. His father opened a small medical marijuana stand when it was legalized. Matt explains how his father saw an opportunity in the growing industry and decided to jump on it. In 2012, Matt's mother was diagnosed with Leukemia. After experiencing severe pain due to the treatments and prescription medicines, she passed away three months after diagnosis. After his mother's death, Matt was diagnosed with Post Traumatic Stress Disorder. After much searching, he went to see a therapist who prescribed him some pills. He did not want to take these prescription painkillers so he researched some more homeopathic remedies. At the time, Matt was also doing cross-fit. He saw CBD coming up in the cross-fit industry, with a lot of athletes doing it via tinctures, balms, and capsules before workouts. He finally decided to give it a shot.
CBD Changed Everything
CBD helped Matt immensely with his stress and anxiety, which at that time had reached a point where it was almost crippling. He says it was hard for him to sleep or focus his mind while in school. But after using CBD for the first time, he felt like himself again.
"For the first time in a long time, I had something that could give me a window to feel like myself again."
Although this feeling was just for an hour, Matt says he could simply relax and breathe. From then, he thought of opening a company and telling his story. Today, Matt and Serenity Medical CBD have dedicated themselves to building a trusted and loyal brand in Michigan. He has partnered with Michigan, MS Society and athletes in different sports industries including UFC, Basketball, and golfers.
A Journey with a Different Goal

Matt has a vision to make Serenity Medical CBD brand more than just a business. He hopes to make a connection of his brand with the whole community by giving back to family, friends, and everyone that helped in building it. Taking a different route within entrepreneurship where the society creates a totally different template, it was Matt's 'never say die' attitude that kept him going, allowed him to take chances, accept risks, and start his brand. Following his vision, Matt uses athletes to promote his brand to the public. He talked to athletes and several sports agencies whom he met on LinkedIn and through other channels.
"If you're just a good person and you're nice to people, and trying to help, it comes back around."
Matt believes that if you want to survive in the industry, you have to tell the truth to yourself, your employees, and everyone. People who try to hide things are being dishonest with themselves, which leads to quite difficult times in business. He also says that you should own your mistakes, learn from them, and move on. By putting the brand in front of yourself, you will succeed in your business.
"One thing that defines success for me is being able to make a living, support yourself and family. But more than anything, it's about making my mom proud."
3 DANK Points
Creating a brand that connects through cannabis, community, and sports.

Using CBD as a homeopathic remedy for post traumatic stress and anxiety.
Honesty and transparency are vital keys for any business to succeed.
Links
Does your cannabis, hemp, CBD company need to improve local or e-Commerce sales? Set up a time to speak with us at Calacann – Cannabis Marketing Agency (https://calacann.com/grow) to discuss how our digital marketing, search engine optimization (SEO), web design, affiliate/referral marketing or influencer marketing campaigns can help you. Home of the D.A.N.C. Method.
Spotify | YouTube | Soundcloud | Stitcher
Follow