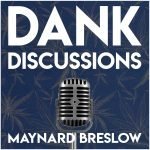 Michael Tullis is the founder and owner of Early Fruit Hemp Co, a small business that distributes craft CBD and hemp products. In the shift of different jobs and finding out where his professional career was going, Michael gained the skills and customer service basics to land a position with UPS. During the time he spent pre-loading packages, he was able to open a small business called Early Fruit Hemp Co.
"I founded Early Fruit Hemp Co. to provide my friends and family in and around West Texas with quality, craft hemp, and CBD products. I have been a witness to the benefits that hemp has on our physical health, our clarity of mind and to the planet we all share…" – Michael Tullis
If Crafted Right, You Get Better Tasting Beer and A Better CBD Experience
Michael joins me on this episode to share the ups and downs in starting a hemp company while holding a part-time job, and why craft CBD is actually less expensive than the mass-produced CBD. He also tells me why sourcing from farms who use organic and sustainable farming practices and knowing where your hemp flower and CBD extracts are coming from is very important in the cannabis industry. Early Fruit Hemp Co stands behind this philosophy to ensure the craft of a superb product and experience for their customers overall. Finally, Michael shares how hemp has always been used to improve our lives, our communities and our planet as a safe, natural and beneficial way to find relief, even beyond all the new hype it has gained in the young but evergrowing cannabis industry we all know and love.
3 DANK Points
How to leverage your current customers into loyal customers.

Why eventually being able to run ads on FB, IG, and Google is a HORRIBLE thing for the industry.

Why branding on a product says nothing about the quality of the product itself.
Links
Listen
Spotify | YouTube | Soundcloud | Stitcher
Follow