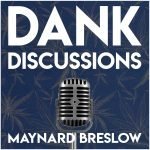 Michelle LaForce is the owner of Tumblweedz Cannabis Essentials.  Based in Calgary, Canada, she was a Denture Technician before she pursued a more fulfilling career in the cannabis industry. She has an extensive background in Cannabis and holds many Cannabis Diplomas including CTU Master Budtender, CTU Cannabis Cultivation Pro, and CTU Cannabis Processing Pro. In this episode of DANK Discussions, Michelle talks to our host about using the packaging of Cannabis, the process of starting a Hemp Business, and the Cannabis Scene.
First, Michelle tells us how she started Tumblweedz. For 11 years prior, she was in the dental field but decided to leave that job because it started to affect her body. She then turned to cannabis to get away from the job and find a new way of life. Michelle tells us the obstacles and challenges she faced when she opened up her store. Getting the development permit was her biggest challenge where a lot of regulations and separation distances from certain types of establishments were needed to be met. Her development permit was denied multiple times but Michelle for what she believed in and after all of her struggles and waiting, her business was approved.
Looking Out for the Environment
Michelle tells us that plastic packaging for Cannabis Products isn't helping its reputation. There is already a negative stigma surrounding Cannabis and Michelle suggests that plastic packaging should be replaced with recyclable materials. Not only will it serve multiple purposes, but it can also help the environment. We need to be aware of what we're doing and how we help the planet for us to still have a future.
The Rising Community of Legal Product Buyers
The Cannabis Industry in Canada is still young and Michelle believes that they will need to lower the prices of Cannabis Products by working together with the government, the retailers, the licensed producers, and the Cannabis Community. However, more buyers are getting more comfortable with legal cannabis products. The people who have been in the Cannabis Scene way before the legalization of Cannabis in Canada are still part of the community and that will not change for them. For Michelle, more doors are going to open for her because the type of business that she has is still young and a lot of opportunities are yet to present themselves.
3 DANK Points
Using recyable materials for the packaging of Cannabis products will help the environment.
The Black Market is still the big player over the legal sellers.
Success is all about the journey, not the destination.
Links
Does your cannabis, hemp, CBD company need to improve local or e-Commerce sales? Set up a time to speak with us at Calacann – Cannabis Marketing Agency (https://calacann.com/grow) to discuss how our digital marketing, search engine optimization (SEO), web design, affiliate/referral marketing or influencer marketing campaigns can help you. Home of the D.A.N.C. Method.
Spotify | YouTube | Soundcloud | Stitcher
Follow