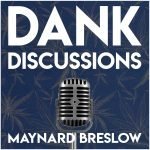 Morris Beegle is the president of We Are For Better Alternatives (WAFBA). He is also a producer of NoCo Hemp Expo and a publisher of Let's Talk Hemp Media. He is based in Fort Collins, Colorado. Medical Cannabis has been legalized since the early 2000s. In 2012, Colorado became the first state to regulate marijuana for adult use. Due to this regulation, Colorado was able to build an industry for hemp. In today's episode, Morris talks to Maynard about how Covid has impacted live hemp events and trade shows, making guitars out of hemp, and the legal cannabis market in Colorado.
Morris first talks about the market in Colorado. Governor Jared Polis, a congressman in Colorado before, has been advocating for medical cannabis on a federal and state level. Despite California being on the legacy side of Marijuana business, it still hasn't progressed much like in Colorado. Morris believes that this is due to political or legal leadership and the advocates and activists. Politicians often include in their platform the legalization of Marijuana. However, until now, the legalization of marijuana to a federal level hasn't been imposed.
Personal History
Morris grew up in Northern Colorado and graduated high school in Loveland, Colorado. He was first introduced to cannabis while he was in high school. During the early 2000s, he had back surgery which caused him excruciating pain. The doctors had prescribed him various medicines that didn't work well, so he started using cannabis instead to take away the pain. 
Morris worked in the music industry, which focused on promoting independent music, manufacturing CDs and DVDs, and distribution. When MP3s started to rise, he had a hard time earning money which led to him entering the industrial hemp industry. Initially, Morris didn't want to be involved in the side of Marijuana; however, he got introduced to the opportunities it can offer to the people. He established a Colorado Hemp Company that focuses on textiles, bags, and t-shirts. He then established a paper company after seeing a hemp paper in San Diego called Greenfield Paper. He launched NoCo Hemp Expo in 2015 and Let's Talk Hemp Media in the year after.
Building an Adaptable Industry
Various events like NoCo Hemp Expo are sharing information on the plants' opportunities to the community. It aims to spread awareness of the positive effects of Cannabis. Morris shared some examples on the industrial side; the opportunities it offered to other countries. In Canada, they were able to produce good food and health products. In Europe, they got flax and Don Agro, providing materials for BMW and Mercedes. Meanwhile, in France, they are building houses and buildings. It has offered many opportunities and it even provides a greener alternative. You no longer need to extract resources; you need to grow them for three to four (3 to 4) months.
Hemp in the Music Industry
Morris always had a passion for music, but he needed to transition to another industry to survive. He first started selling t-shirts, hats, and posters. He then discovered a company that offers Canadian Hemp Guitars wherein he invited them to the NoCo Hemp Expo in 2014 but they never attended. In the following year, during the guitar wrapping in Colorado, he discovered a small company that offers Hemp guitars. He contacted them to make him some guitars which they successfully did. However, due to production issues, they stopped. Morris discovered the French Brothers, which allowed him to sell and produce speaker cabinets, amplifiers, and guitars made of hemp wood and board. Morris explains that hemp offers a lot of opportunities. Anything you can make in some wood can also be made through hemp. Due to this process, we are eliminating the use of wood which will be helpful to the environment.
The Impact of Covid-19
There have been many plans even before COVID-19 made a huge impact in the world. In 2014, Morris started a small event in Windsor, Colorado. Starting at 350 people that first year, they were able to grow up to 10,000+ people in 2019 with the hopes of getting 20,000 people and 450 exhibitors in 2020. They were then in California to present at the Natural Products Expo at the beginning of March. Unfortunately, this was when COVID-19 was surging, which led to the cancellation of the event. At first, they didn't know it was a big thing to look out on, not until other huge events were canceled due to the situation.
To adapt to the current situation, they switched many things to online. Fortunately, they could still push through two (2) shows in 2020: NoCo Hemp Expo and Southern Hemp Expo. However, the number of people who attended the event was just 1/4 or 1/3 of the expected number. So far, they are not planning anything big to avoid getting shut down by the government or needing to personally shut it down. Although, they are hoping for the good side to rise as many people are getting vaccinated and there are various ways to help and fight COVID-19. Morris believes that COVID will be with us for a long time, and we will have to learn how to live with it.
What is WAFBA?
WAFBA is a holding entity of the brands they've established for the last ten (10) years: Co Hemp Co, Tree Free Hemp, NoCo Hemp Expo, Southern Hemp Expo, and a lot more. Morris also mentioned other alternatives that are natural materials that people can use. It is not just hemp; it is only the tip of the iceberg to begin discussing alternatives. The situation with COVID-19 has impacted Morris the most. A lot of events weren't able to push through, which posed a big problem to the company's revenue. Right now, they are trying their best to get the events up and running again. Aside from that, they are also working on hemp paper. Their media platform also released a 2022 opportunities report, it discusses what happened in 2021 and the expectations in 2022. They are also hoping for CBD to be regulated this year.
"Success is being comfortable and happy with who I am and not caring what other people think."
3 DANK Points
How coronavirus has impacted live cannabis events and trade shows.

Hemp can be an environmentally friendly substitute for a lot of things like wood.

With right education and partnerships, we can transition into a greener alternative.
Links
Does your cannabis, hemp, CBD company need to improve local or e-Commerce sales? Set up a time to speak with us at Calacann – Cannabis Marketing Agency (https://calacann.com/grow) to discuss how our digital marketing, search engine optimization (SEO), web design, affiliate/referral marketing or influencer marketing campaigns can help you. Home of the D.A.N.C. Method.
Spotify | YouTube | Soundcloud | Stitcher
Follow