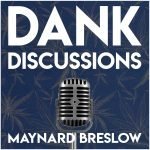 Precious Osagie-Erese is the Chief Operations Officer at Roll Up Life Inc., a cannabis delivery service provider in New Jersey. Since it was founded in 2018, Roll Up Life's goal is to connect the cannabis industry in New Jersey and make the transportation and delivery seamless for everybody involved; from seed to sale. Precious shares with us the story of her business, her passion for social equity, and cannabis legalization in New Jersey.
Precious first shares with us about the changing cannabis industry in New Jersey, the space for people of color to flourish in the cannabis industry, and what the future holds for her and Roll Up Life. Born and raised in New Jersey her whole life, she says she has seen how the war on drugs has affected families and people in her community. Still today, African-Americans are 3.73% more likely to get arrested over marijuana-related charges than their counterparts. However, Precious says the passing of the cannabis bill in her state has brought more energy and excitement. The industry's major players are even more excited and ready to get their fingers in this pot of opportunities. However, with high demand and low supply, and the bill's passing, there is great room for the minority businesses to explore and compete. Precious admits there's still a lot to be done to ensure minority applicants seeking to license really do have a shot as the state transitions to legalizing marijuana for recreational purposes.
Roll Up Life Gets Rolling
In 2018, the CEO of Roll Up Life, Tiyahnn Bryant, saw a gap in the cannabis delivery services in New Jersey. He knew he had to do something about it and started coming up with ideas. When Precious returned to New Jersey to continue with her journalism career, Tiyahnn decided to share the idea with her and requested her support. She turned him down, citing she needed to focus on her career and had no knowledge of the cannabis industry. Tiyahnn went ahead to network, attend expos, pitched his idea, met relevant people in the industry, and returned to Precious after a year to ask for her help once more.This time around, she finally saw his vision, how he predicted the legalization of Cannabis in New Jersey in 2020, and what the market would look like. Precious was impressed and decided to help him with the marketing on the website and social media. The more Precious did her research in the industry, the more she developed a passion. In 2019, she decided to change her career to full-time cannabis operator. She is now the COO of Roll Up Life Inc, while Tiyahnn continues to blaze the trail as the CEO. Their collective goal is to connect the cannabis industry in New Jersey and make the transportation and delivery into a seamless system for everybody involved. With over 180,000 marijuana patients in the state, there are just 11 dispensaries in the state. Roll Up Life has been so impactful during lockdowns by delivering marijuana drugs to these patients.
Dealing with the Sharks in the Water
With the major players in the cannabis industry being so good at what they do in their predatory ways, Precious shares the strategy to help  minority businesses survive these "sharks in the water." Roll Up Life has built a credible business since it was founded in 2018 and a good model that can compete with major players. Precious says the first step is to study the competitor strategy and understand how they got there. This made her wonder, what methods can push Roll Up Life to become a major player. The next step for her as the chief operating officer was to invest in and improve operation methods and technology to make the service delivery better. Precious notes that the business's biggest challenge was sourcing the startup funds after setting up the plan. With an estimated $7.5 million required to get things rolling,  most people strayed away. However, they managed to source some funds from their own pockets for the lawyers, website, and connections. They later joined different organizations and built a network that assisted later. Pitching, family and friends also had a massive contribution to the business. They later added Kevin Monangai as their Chief Financial Officer to manage and plan for the finance. Roll Up Life continues to plan on adding value value to the community while expanding the New Jersey cannabis market.
Moving Forward from Here
Precious says that the future looks promising with opportunities. Right now, they are just watching closely at the policies and how things unfold. Roll Up Life also hopes to advocate for social equity by creating programs that will better the community and provide employment. To the cannabis enthusiasts, Roll Up Life is looking to a future where they can provide people who are interested with resourceful information, funds and act as their advocate. Precious also hopes to spread Roll Up Life to different states.
"My success is when I can look around me and see others are just as successful or climbing their way to their success as well."
3 DANK Points
There are always opportunities for everyone when policies are set to support them.
Investors are investing in you and your team more than the business model.
Success is about improving the people and the community around you.
Links
Does your cannabis, hemp, CBD company need to improve local or e-Commerce sales? Set up a time to speak with us at Calacann – Cannabis Marketing Agency (https://calacann.com/grow) to discuss how our digital marketing, search engine optimization (SEO), web design, affiliate/referral marketing or influencer marketing campaigns can help you. Home of the D.A.N.C. Method.
Spotify | YouTube | Soundcloud | Stitcher
Follow