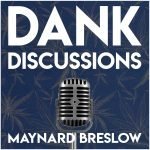 Randal MacCaffrie is the Co-Founder and Chief Information Officer of Cannabis Community Care and Research Network, a public benefit corporation and the very first state-wide social equity network in the cannabis industry otherwise known as C3RN. The company strives to connect and empower the cannabis industry, academia, and clinical communities to create a virtual network of like-minded innovators. In doing so they are able to advance cannabis research and use of medical cannabis as a valuable option for those with qualifying conditions, such as veterans and others who suffer from PTSD. C3RN is also breaking the stigma by starting the cannabis control commission social equity training program at Holyoke Community College.
3 DANK Points
Identifying and preventing predatory practices that aim to exploit social equity programs.
Standardizing cannabis curriculum in colleges and universities nationally now in anticipation when cannabis becomes federally legal.
Providing scientifically sound research with veterans to help them gain relief from PTSD and opioids.
Spotify | YouTube | Soundcloud | Stitcher
Follow