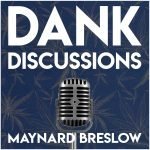 Reza Barzi is the owner of Vital CBD and managing operator at The Great American Ranch. With ten years experience in the industry, his main goal at The Great American Ranch is to produce the purest high quality flowers of cannabis and hemp. As one of the first farms to be able to produce both hemp and cannabis in Oregon, Reza strongly believes that his consumers deserve quality products harvested from seed to sale in the cleanest way.
First, Reza tells us how he was first introduced into the industry. He decided to move from Atlanta to Oregon to be an apprentice to other growers in Oregon. There he learned everything about cannabis from seed to sale. He also learned that if you work in the cannabis industry, you must be incredibly efficient and cost effective with your business dealings. You can get kicked out if you're not hitting profit margins. This has happened to a number of growers who don't put care and quality into their own products. Reza tells me that 70% of the hemp farmers are going to get eliminated this season because of the poor quality of harvesting that is happening on their large farms.
Quality over quantity
The state of Oregon gave out too many recreational licenses when cannabis first became legal. There were so many farms that drove the prices incredibly low that they crashed. Reza explains that, since the state of Oregon didn't put a cap on the number of licenses being approved, it created a scene that wrecked the Oregon cannabis industry as well as farmer's livelihoods. The money they had invested in their cannabis ventures was never paid back to them in profit because they weren't even making any profit at all. From experience, Reza tells me that if you're trying to get your plants to flower, you cannot do more than 5 acres of cannabis. You need the right team, you need funds, infrastructure, the right equipment, and the right techniques. To produce high quality cannabis you need all of these parts of the whole equation. The main reason that Reza and his farm were able to stay operating was because they had a license for hemp. Reza says that the prices have been increasing recently, and this is because most farmers who lost their investments had quit. 
Americans want legalization
There is a big lack of knowledge about CBD and cannabis in America. Reza tells me that cannabis is such a different plant than it was 20 years ago. Full spectrum CBD is stifled by the laws about the .3 thc limit, and farmers like Reza are risking their property and their life to that .3 percent. He explains how important it is for people to learn where their cannabis is coming from. Nowadays, people don't even know where their traditional market cannabis is coming from. At the Great American Ranch, Reza explains that they have created their own metric system with data collection. With this they are not only able to just show their COA, Reza is able to tell his customers which field, which row, and which plant any of the tinctures came from. Reza believes that consumers deserve to know they are getting quality products. He wants his customers to know exactly how they execute end material, so he invites all of his customers and anyone else who wants to learn more to come see exactly how they do seed to sale at The Great American Ranch.
3 DANK Points
The pros and cons of cultivating marijuana and hemp.

How to succeed in an extremely saturated and popular market.

Being willing to learn from other successful owners before starting your own business.
Links
Does your cannabis, hemp, CBD company need to improve local or e-Commerce sales? Set up a time to speak with us at Calacann – Cannabis Marketing Agency (https://calacann.com/grow) to discuss how our digital marketing, search engine optimization (SEO), web design, affiliate/referral marketing or influencer marketing campaigns can help you. Home of the D.A.N.C. Method.
Spotify | YouTube | Soundcloud | Stitcher
Follow