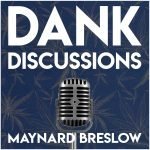 Richard "Canna" Hengst is the President & CEO of King Canna CBD, Hengst Hemp Co, and Hengst Cannalytics. His experience in cannabis research has given him hope for the future of Hemp and the entire spectrum of cannabinoids that are available to heal people. After seeing how cannabis helped him recover from a collision accident, he wants to provide that relief for the world. If you are in this industry and you know you want to change people's lives, and your product can do that, you are successful. 
First, Mr. Canna tells me how he first heard about cannabis. In 2005, he was working at a semi factory and got caught in a head-on collision with another vehicle. With his knees being crushed under the dashboard and his hip being twisted around, he was rushed to the hospital. The doctors told him that he needed to have one surgery on his hip and three extensive surgeries on his right knee. He was also supposed to get back surgery, but before he was able to apply for it the doctors took away his health insurance. This is when cannabis came into his life, and to this day he has not needed that back surgery. The system in each of our bodies is a system of nano-mechanics. When cannabinoids are put together or pulled apart, it is a synergistic response. He says, once you realize how good cannabis is for you, it's hard to not tell people about your story and the reason why they shouldn't take it too. At first, his parents did not know what to think about it, but now they are his biggest supporters.
Studying Alzheimer's Research in Israel
In 2009, Canna wrote a paper about his thoughts on the Alzheimers research that was coming out of Israel. His main point in the paper was how cannabis creates new pathways for new neural and synaptic responses to take place in your brain. A few months later, he received a phone call after sending out this paper and was invited to Israel. There, he shadowed a research team and saw their work with his own eyes. Mind you, this was in 2010 before cannabis was even a huge thing. The facts about cannabis in the states during that time were biased. Cannabis wasn't really as broad as it is now. Canna tells me how most research documents were not published yet. He adds that he had to know people in the research world to gain insights on his own. Cannabis has come a long way since then.
Quality Over Quantity: Manual Labor on Cannabis Farms
In 2012, Richard quit engineering to fully delve into the hemp game. With the best intentions, he did a ton of breeding, and stabilized his strains for clones to be able to grow in the winter. He tells me that every product at King Canna CBD is harvested by hand. The reason why King Canna himself does this is because of the quality of the product he wants to put on shelves. He strongly believes that the reason why the cannabinoid market has dropped is because of mass harvesting by machines. People that have big farms were not ever really a part of the cannabis industry beforehand. They are the ones who are well funded and only see this industry as more money to be made. Since they haven't understood the industry and how the money is valuable in it, they have lowered the quality of cannabinoids. That is why Canna believes that manual labor is a benefit on cannabis farms. First of all, it creates more jobs and the product you are producing is the highest quality. He shares with me that If we just get this legalized without any clauses, the industry will be taken out from underneath us and given to the hands that have money. 
The Intentions of being in this industry must be good.
Furthermore, we deep dive into how people's intentions should be when they are in this industry. There are unbalanced systems because of the prohibition of marijuana. People are sitting in jails for just trying to heal themselves from Cancer with the help of cannabis. They should not be. The people who have busted their ass to educate others and get this industry where it is right now are gonna be the ones who get pushed out.  They should not be. At some point we must be a collective, Cannabis can help every single person. Richard tells me that the number one thing is to not judge people. As much solidarity has been built in this industry, there is so much work to do still. He shares the knowledge he has because he wants people to gain value for themselves. The whole point of this industry is to change the planet for the better, change people's lives for the better, and create love and happiness. We are all the same because we all want to be happy and healthy and live life. 
3 DANK Points
Healing from a head-on collision with the help of Cannabis and THC.

What it's going to take for paper mills, lumber industries to release control to make way for hemp

Why intention matters in any industry, not just the cannabis industry.
Links
Does your cannabis, hemp, CBD company need to improve local or e-Commerce sales? Set up a time to speak with us at Calacann – Cannabis Marketing Agency (https://calacann.com/grow) to discuss how our digital marketing, search engine optimization (SEO), web design, affiliate/referral marketing or influencer marketing campaigns can help you. Home of the D.A.N.C. Method.
Spotify | YouTube | Soundcloud | Stitcher
Follow