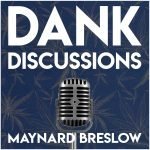 Russ Cersosimo is the founder and managing partner of Hemp Synergistics. He is also the founder and chair of Medical Cannabis Society and co-founder of Mountaineer Integrated Care Dispensaries and Keystone Integrated Care Dispensaries. Russ has also authored the book, Molecular Influence, which was released in March 2021.
In this episode, Russ talks about innovation in the tech industry and how Hemp Synergistics helps key industry players stay ahead of the game by manufacturing more efficiently and effectively.  We also chat about his journey in the industry, plans for the future, and key obstacles people in the cannabis industry still face today.
Entrepreneurship and Magicians
Growing up with a grandfather who found his passion in being a magician, and an entrepreneurial father who founded the Guardian Protection Services, Russ ended up getting to sales early. At a young age, Russ got to interact with the American salesperson Billy Mays, who taught him how to command people to buy into your ideas. Billy Mays's effect on him was the push he needed to understand an innovative and important opportunity at an early age. It pointed him to a clear future where he later started a tech company in California.
Pushing for Cannabis legalization in Pennsylvania
While based in California, where cannabis was already legalized since 1996, Russ worked with moms that had children with epilepsy. He also helped fight for legalization in Pennsylvania by starting the Medical Cannabis Society. Through the Medical Cannabis Society, a non-profit entity, Russ organized and held 50 events to educate people and convert radical non-believers into believing in hemp effectiveness.
While transitioning in between careers, Russ says he encountered a moment that made him shut down his tech company and use the funds to get into the hemp industry. While in a fundraiser with women who had children with epilepsy, one of the women's children had a horrible seizure that it became a matter of life and death. With just 11 days left for the child to live because her organs were failing, little could be done. Russ spent the next four hours on phone calls looking for ways out. Hope came through medical cannabis. The child, who could have been no more in 11 days, is now 18 and thriving! This made Russ realize he can save people or make their lives better by getting involved in the industry. This was just the beginning.
But why does it take such moments for people to believe in the power of cannabis? Russ says the culprit is cognitive dissonance. It makes people feel uncomfortable with new ideas and forces them to choose not to believe in the new information. These old beliefs, he says, were put into people by the media who made cannabis look bad, illegal, and demonized. That's what our parents thought. But when a loved one gets healed by cannabis, we have no option but to believe the new information. That's what it takes.
Hemp Synergistics
Hemp Synergistics is about taking the hemp ingredients or cannabinoids and making them available most efficiently and effectively. The company uses innovative ways to find out how to create products that work in different industries such as food and medical industries.The key obstacles they have faced are the grey area with banking and advertising. It's still hard for banks and ad platforms to support CBD companies. Another huge problem he mentions is getting people on the phone to educate them about hemp.
Looking towards the future, Russ says Hemp Synergistics is currently working on a patch, which integrates 60 different natural components to help get it fast into the skin and into the bloodstream to relieve pain quickly and efficiently. They have started testing the product, and it will be released by the end of the year. Russ says although the name CBD is what's getting the buzz at the moment, in three to five years, no one's going to care about the words hemp or CBD. People will always go back for the products to their manufacturers. The name variations do not mean much more than just branding. Currently, Hemp Synergetics helps companies with THC extraction and helps food companies remove the hemp smell from their products.
"Being known as a good leader that could make the right call is success to me. The people that you're leading want to know they can look up to someone that's making the right decision."
3 DANK Points
Our children can change cognitive dissonance about hemp.

Hemp as a plant medicine translates among the whole age spectrum.

Innovation and technology are advancing in the cannabis industry.
Link
Does your cannabis, hemp, CBD company need to improve local or e-Commerce sales? Set up a time to speak with us at Calacann – Cannabis Marketing Agency (https://calacann.com/grow) to discuss how our digital marketing, search engine optimization (SEO), web design, affiliate/referral marketing or influencer marketing campaigns can help you. Home of the D.A.N.C. Method.
Spotify | YouTube | Soundcloud | Stitcher
Follow