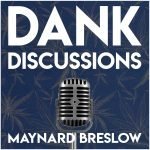 Scott McDowell is the founder of Bloom Mary Jane, a new media platform that focuses on global cannabis news, product reviews, and artist spotlights. Scott gives us insights on how Clubhouse is the best platform to drive awareness to any business. Scott also shares his 15-year long journey in and out of media and entertainment, with some insight on how to navigate the road called life and find your own pathway towards success.
Scott first shares his journey through high school and college. As a traditional stoner kid in high school, Scott found himself selling weed and pinching some to keep for himself. In both college and high school, he pursued many small jobs. He finished high school and ended up deciding to quit college as well. After school, he decided to seek a job at the Baltimore Examiner, a daily newspaper in Baltimore. He was responsible for handling retail advertising. Scott also notes that he has been around small businesses for a long time. His uncle had worked in hardware for over thirty years, which the owner sold to him when he retired, and his aunt also worked in a photography business.
Making Mixtapes in New York
He later moved to CBS Sports Radio Station, selling and advertising three of their shows. He later turned from being a salesperson to covering live events as a personality rather than a business man. These tours connected him with artists such as DJ Rocky Rock, whom they decided to continue with their own tours, moving to different cities every two weeks and hosting after-parties. After touring 18 cities in America, they decided to conclude their tour. He then started working for Central Entertainment Group, a booking agency in New York that connected businesses with a talent for "influencer" roles or talents looking for connections. He says he used to split 50% in his commissions with the agency. Since he felt he didn't need them, he decided to quit and started Global Attack Mixtapes. Global Attack Mixtapes are compilations by various international music artists. The mixtapes were posted on their website to promote the artists to a larger audience and Scott mentioned that he would pay artists to be featured. The website was later sold to a large media player in New York.
"Success is having time to do whatever you want to do without feeling any stress or pressure."
3 DANK Points
Why ClubHouse is the new place to be an influencer.
Success is the journey and not a destination.
Hip Hop, Graffiti, and Cannabis in New York.
Links
Does your cannabis, hemp, CBD company need to improve local or e-Commerce sales? Set up a time to speak with us at Calacann – Cannabis Marketing Agency (https://calacann.com/grow) to discuss how our digital marketing, search engine optimization (SEO), web design, affiliate/referral marketing or influencer marketing campaigns can help you. Home of the D.A.N.C. Method.
Spotify | YouTube | Soundcloud | Stitcher
Follow