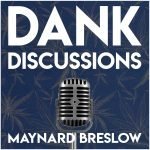 Shawnee Williams is the Recruiter & Account Executive of Illinois Equity Staffing. With a background in biz-ops, sales, and recruiting. Serves on the Human Resources Committee of the National Cannabis Industry Association. MS in Business with hands-on experience in the Cannabis field. In this episode, we talk about recruiting in the cannabis industry and the struggles that go along with it.
First, Shawnee talks to us about the problems currently occurring with the legalization of cannabis in Chicago and the licenses necessary for its manipulation. She believes that the biggest difference between California and Chicago is the way they operate. The cultural personality of each state influences is translated into its laws and industries. Illinois is number one in risk management. For that reason, when it comes to business operations, they do bureaucratical things. She pointed out another difference: The way patients shop at the dispensary. In Illinois, it is difficult to get a patient discount. In California, all the stores are open; people do not have to worry about getting a discount.
"We don't need five dispensaries on one corner. At least they're trying to see what mistakes other states have made and trying to mitigate those."
California, Chicago, & Cannabis: Shawnee's Relationship with Cannabis
Shawnee tells us that she was born in the southern suburbs of  Chicago, Illinois. Alongside a sibling who suffered from drug abuse problems. Also, she went to catholic school. At the age of 25, Shawnee started using cannabis due to a medical diagnosis with Lupus and hypothyroidism at the same time. While living in California, she had an injury in her face and was detected for cancer. At that time, she was built upon all kinds of drugs. Her start-up in the industry was working at a dispensary in downtown LA, and that's when she got her own patient card. She came from a business operations, staffing, and sales background; she is an entrepreneur at heart. Once the bill passed, the first thing that came to her mind was: "I want to own a dispensary." And she formed Illinois Equity Staffing. They actually have an adult license and do responsible vendor training. They focus on recruiting and human resources from the perspective of creating an equitable industry.
Gaining finances and Starting a Business in the Cannabis Industry
It is important to know that the cannabis industry is made up of 67% of ancillary businesses. What that means is that it is supporting the industry more than plant-touching. But the ancillary business is not considered because there is no social equity for them. People would have to go through a service-based organization. Those are the disadvantages and advantages of being an ancillary business in the cannabis industry.
"All kinds of opportunities to gain more knowledge and financing your cannabis business is… if your plant-touching comes through economic opportunities, social equity, low-interest rate loans, and technical assistance."
To become an equity industry. The number one thing to do is educate each other on the biases that we have. Then we will be conscious and starting to be intentional about our actions.
3 DANK Points
The need for inclusion in society and business.
How being biased affects the cannabis industry.
The cultural personality of each state is reflected in its laws.
Links
Illinois Equity Staffing Website

Shawnee Williams on LinkedIn
Does your cannabis, hemp, CBD company need to improve local or e-Commerce sales? Set up a time to speak with us at Calacann – Cannabis Marketing Agency (https://calacann.com/grow) to discuss how our digital marketing, search engine optimization (SEO), web design, affiliate/referral marketing or influencer marketing campaigns can help you. Home of the D.A.N.C. Method.
Spotify | YouTube | Soundcloud | Stitcher
Follow