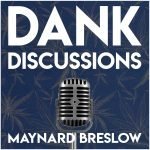 Shifra Klein is the Founder of Mitzva Wellness, the first-ever OU Kosher CBD company. After having her son diagnosed with severe autism at the age of two, Shifra took the time and patience to collect her own data and seek out research on Ultimately, cannabis, and specifically CBD, will be able to help her autistic son and her whole family find relief. Shifra joins me on this episode of DANK Discussions to tell us her powerful story.
3 DANK Points
Overcoming the frustration of having doctors tell you "no" when you know cannabis will help your child
The ultimate pleasure of hearing a previously non-verbal child speak for the first time
Securing the strictest kosher license (Hashgacha) to be able to provide CBD for EVERYONE, including the orthodox Jewish community.
Spotify | YouTube | Soundcloud | Stitcher
Follow