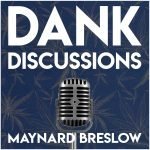 Veronica Castillo is is a writer and journalist in the cannabis industry and the psychedelics space. She writes and contributes content to various companies and brands, as well as travels the world on an exploration for everything plant medicine. 
Veronica grew up in the south that shaped her view of her relationship to cannabis. She did not understand the value of cannabis until she was diagnosed with migraines due to vertigo in 2015. Doctors tried five different medications in an attempt to cure her but one of her friends offered her cannabis. In desperation, she tried it and it ended up curing her.
As a writer, Veronica is compassionate to her job. She works for people who are passionate and supports people whose voice are being not being heard. Veronica advocates more on plant consumption. She is a firm believer of the healing capabilities of plants and the benefits it provides to us. Listen to this episode as to how Veronica discovered a new lease of life after an arduous battle in the psychedelic space.
3 DANK Points
Chemical based medicine vs Traditional medicine.

How cannabis history relates to racism.
How food alters our state of mind similar to Cannabis.
Links
Does your cannabis, hemp, CBD company need to improve local or e-Commerce sales? Set up a time to speak with us at Calacann – Cannabis Marketing Agency (https://calacann.com/grow) to discuss how our digital marketing, search engine optimization (SEO), web design, affiliate/referral marketing or influencer marketing campaigns can help you. Home of the D.A.N.C. Method.
Spotify | YouTube | Soundcloud | Stitcher
Follow