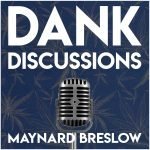 Christopher and Alisia Ratliff are the CEO and President of Victus Capital Ventures, respectively. Alisia is an accomplished chemist and a licensed Project Manager who boasts over 13 years of experience in different industries. On the other side of this dynamic duo, Chris used to work with engineers in a military airbase, fixing and creating parts for aircraft. He got involved with cannabis at a very young age as a consumer and knew how to grow the plant before 18.
In this episode, Alisia and Chris share their views on different industry factors, from how they are involved, to issues affecting the cannabis industry, such as diversity and gender issues in leadership. They also share their journey, obstacles, and how they solve one problem at a time as they seek to dominate their niche. Tune in to listen to these and more exciting topics.
The Beginning of Victus Capital
After graduating with a Chemistry degree, Alisia joined the workforce and began working in extraction for the EPA. However, after a few years, she grew bored and felt the need to move on. She says the boredom was caused by the slight chance for career growth in her job, as one had to wait for one to retire before they could be promoted. She decided to take on a role outside the lab as a Project Manager. Alisia was responsible for running several studies for pesticides and doing technical reports. This is where she got all the business experience and learned how to manage budget, time, and people. She says she enjoyed the Project Manager role but decided to call it quits as she could not break the ceiling in the male-dominated industry.
Chris got involved in the industry early in life as a consumer. He says he knew people who had the plants and grew up learning from what they do. His grandmother also taught him how to grow the plant, and by 18, he was already growing some. As time went by, Chris says that they tried to figure new ways of consuming it together with his friends. Within no time, they quickly turned to makeshift scientists (Stoner Scientists), although they knew nothing about science. While working at the EPA as the abatement supervisor, Chris noted that he was not fulfilling his life purpose. He decided to switch gears and started Victus Capital Ventures with Alisia when the opportunity came knocking.
Moving on, Alisia, with the help of her husband, Chris, started Victus Capital Ventures over four years ago but was registered in January 2020. Alisia says Chris was phenomenal in the first years of getting things running as she was knowledgeable in cannabis cultivation and the overall market. He also helped coach her in her first role as everything got intense in the "biggest leap" of her life into the industry she knew nothing about.
Opportunities For Women in Cannabis
Alisia says that there are many opportunities in the industry, and what one needs to do is identify them and jump into the fast-moving industry before being left out. She says when you are looking to create a niche product or technology, you need to look at a market that is more in its infancy. With cannabis having over 240 components and less than 25 having been identified, investing in research to identify the other benefits of cannabis can be a fortune to any business willing to take the step. Alisia says Victus is getting involved through podcasts, creating articles and magazines, and building a reputation for their brand on how they can scientifically help cannabis companies dominate.
Success is being a positive impact on somebody's life and being able to take somebody you might consider your enemy or unfriendly and pray for them and wish them well.
3 DANK Points
There are still huge social equity and diversity issues that need to be addressed in the industry.

If u don't hit your mark at jumping into the market you are too late.

Every age group can welcome medical cannabis use into their life routine.
Link
Does your cannabis, hemp, CBD company need to improve local or e-Commerce sales? Set up a time to speak with us at Calacann – Cannabis Marketing Agency (https://calacann.com/grow) to discuss how our digital marketing, search engine optimization (SEO), web design, affiliate/referral marketing or influencer marketing campaigns can help you. Home of the D.A.N.C. Method.
Spotify | YouTube | Soundcloud | Stitcher
Follow