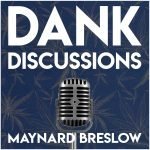 Alice Moon is the founder of Alice Moon, a PR agency that helps cannabis businesses share their stories with consumers and the media. She was also the founder of Swallow, the world's largest edible directory which helped cannabis consumers find the right edibles for themselves based on dietary restriction, food type, and location. Her work as an entrepreneur in the cannabis industry has led to Alice being a guest on CNN, Viceland, and Vice, with features on Business Insider, LA Weekly, Forbes, Washington Post, and High Times, just to name a few.
In this episode, Alice shares her story about how she got into the industry, setting her first businesses in the industry, and getting diagnosed with Cannabinoid Hyperemesis Syndrome (CHS), an allergic reaction to cannabis consumption. She also shares the obstacles and what she feels should be done in research to help those suffering from CHS.
From New Orleans To LA
After losing her job in 2010, Alice used her savings to go on a 2 weeks vacation to LA. She fell in love with the city and the weeks turned into months, and then years. She says she casually drinks and had never consumed cannabis before. Moving to LA made cannabis more accessible to her. She started using it and realized it was helping her deal with depression, anxiety, sleep, and appetite. 
One year in LA, while working at a restaurant, the host invited her to trim weed. She accepted it, making her entry into the industry. She later requested the host to work in the cannabis shop but there was no vacancy. Just an hour later, the shop's budtender was caught stealing on camera and that meant Alice had a new opportunity to work as a budtender.  
She worked in the shop in this position for two and a half years. Alice later moved to two different dispensaries and combined her budtender job with making bracelets and necklaces that doubled as cannabis smoking tools after the owner of the dispensary allowed her to sell "anything that appeals to the customers."
Finding the Right Edibles
Alice says she later lost passion in making the bracelets after seeing the need for edible education within the industry.  She started by writing edible reviews. She later started Swallow, a tech company that helped cannabis consumers find the right edibles for them based on their dietary needs and location. After spending two years planning and launching it, the company operated for seven months before it ran out of funding. She was forced to close it down. Despite the short time under operation, Alice says it was a huge success for her.  She built her network and learned a lot about time and employee management. Alice also learned how to get press coverage. She also feels the company helped a lot of people who needed the information. 
Living with a Cannabis Allergy (CHS)
In 2016, Alice started getting sick with symptoms like nausea, vomiting, and abdominal pain. She was randomly throwing up and getting sick for a few hours after consuming cannabis edibles. A few weeks later, she would experience the symptoms once again. It continued this way for two years until she was diagnosed with CHS in 2018. Alice believes it started when she was consuming edibles while writing edible reviews. She says she was doing it every day for a few years until her body got overloaded. 
Today, she can't smoke or consume cannabis products but can consume terpenes and mushrooms. She once tried pesticide-free cannabis and CBD but still ended up being hospitalized with a bacterial infection for 16 days. Alice says there was very little information online to help her know about CHS soon enough. She hopes that people talk more about it and believe that it is real without thinking the doctors are anti-cannabis. 
She has conducted a survey that involved 330 CHS patients and found out that edible consumption isn't so common, maybe this is the reason why not much information is not available about CHS. Out of 330 respondents, only 3 were using edibles alone. The majority of the rest were smoking flower.
Working PR in the industry
Despite having felt the severe effects of cannabis through CHS, Alice still has a passion and works in this industry for one reason; cannabis helped her so much with depression, anxiety, sleep, and appetite before it started hurting her. And it's not just about her, she has seen the plant helping people of different ages while working as a budtender. She once thought about leaving the industry but felt she was meant to be there. She now works as a publicist and has grown her connection through events and networking with people.
3 DANK Points
The importance of having the right Public Relations firm behind your cannabis brand

The pain of having an allergy to the medicine that helps with anxiety

Facing backlash from the industry you love over something you can't control
Links
Does your cannabis, hemp, CBD company need to improve local or e-Commerce sales? Set up a time to speak with us at Calacann – Cannabis Marketing Agency (https://calacann.com/grow) to discuss how our digital marketing, search engine optimization (SEO), web design, affiliate/referral marketing or influencer marketing campaigns can help you. Home of the D.A.N.C. Method.
Spotify | YouTube | Soundcloud | Stitcher
Follow