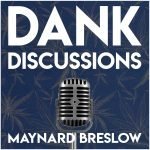 Doug "Red Hail" Pineda, best selling Native American author, is a well-known frontline environmentalist and freedom fighter. In addition, he is a renowned business development expert in the world of the Fortune 500. Today, he is also the owner of Grow Hemp Farms and GrowHemp.com. Grow Hemp Farms contracts organic certified industrial hemp farms for top tier buyers that require high-quality hemp for their products. GrowHemp.com is an online educational platform and marketplace that is educating farmers new to the world of hemp how to bypass common failures and succeed quicker. 
Suppressing Cannabis Spirituality
In this episode, Doug deep dives into cannabis spirituality and why it is overlooked in modern western society. In addition, he shares his history of growing up around his father who is a decorated military veteran. As a child, he saw first-hand how soldiers returning from war were consistently suffering from PTSD. His experiences as a youth fueled his passion to help these soldiers with the Patriot Hemp Company. This company is "serving those who serve this country and the greater values of life, liberty, and the pursuit of health and happiness." To achieve this, they sell CBD and other products for military service personnel that need the benefits of CBD but cannot risk testing positive for THC.
3 DANK Points
Military service personnel using CBD to deal with pain management, PTSD, & depression. 

Practicing conscious capitalism within colonial standards.

How devious minds have attempted to suppress the spirituality of cannabis.
Spotify | YouTube | Soundcloud | Stitcher
Follow