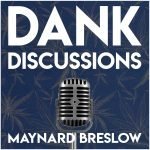 Ernie Beck is the Founder and Operator of 4 Reasons Hemp, a hemp farm located in Cecilton, Maryland. 4 Reasons Hemp believes everyone has a reason for what they do in life. 4 Reasons Farm aims to help everyone achieve relief through hemp-derived products, regardless of their line of work. As emergency medical professionals, Ernie and his wife/partner Falon channeled their desire to help others by using their land to grow hemp for CBD products. 
Why Emergency Pros Susceptible to High Stress and Trauma Such as EMTs and Police Officers are Weary of CBD.
Ernie Joins me to share his unlikely story of ending up in the CBD and hemp space. First, Ernie candidly shares how stigma against cannabis prevented him from seeing the good behind it. His wife was a nurse in the emergency department of a local hospital and he was a firefighter/EMT. Cannabis was not a part of their lives at all at that time. After getting a first-hand look into the industry while in Oregon, Ernie decided to start educating himself on the medical health benefits of CBD. Having first-hand experience in emergency services, Ernie knows high stress positions lead to PTSD. He also knows people in these professions face strict drug testing. Therefore, these professionals are often weary to try hemp-derived products out of fear or stigma. 4 Reasons set out to provide a high-quality THC-Free products that will benefit these professionals dealing with trauma.
When people like Ernie enter the industry with no prior experience in Cannabis, their reasons may differ from others. 4 Reasons Hemp prides itself on hard work and honest living. Along with helping others, integrity, perseverance, loyalty, and doing the right thing are rooted in the core principles of the company. Falon & Ernie not only exercise these principles in the field and in business every day, but they also instill these principles in their 4 children. Their children give them 4 reasons to lead by example in building a foundation in their family's future.
3 DANK Points
All first responders have PTSD to one degree or another.

Offering THC-Free to ensure those with stringent testing have access to it.

Coming around to cannabis through education after being anti-cannabis.
Links
Spotify | YouTube | Soundcloud | Stitcher
Follow