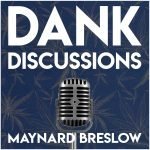 Nicholas Nedin is a Business Development Consultant, Writer, and the Host of The Flower Hour Podcast emanating from Windsor, Ontario. The Flow Hour aims to look at cannabis through the lens of some of North America's best and brightest people emerging in the cannabis industry. They creatively bring listeners on a journey through cannabis content by highlighting and intertwining the perspectives of business, science, technology, and pop culture. 
Nicholas joins me to speak on how jurisdictions in Canada are on a different path than the United States. First, he explains the challenges Canada has faced transitioning from a medical framework to a recreationally legal framework. While California struggles with dispensary saturation, Nicholas shares that there are less than 40 in Ontario. Despite the common suggestion, many people "judge a book by the cover." While that might sound incorrect, as podcast authors it makes perfect sense to make the cover suit the material standard. Lastly, we deep dive into the tips and tricks on utilizing our time wisely during the great confinement we all know as COVID-19. Included in that, we discuss mental health, triggers in this current climate and tools to use in these times.
Seeking the Best, Whether its Cannabis or Content.
As a Podcaster and a business dev consultant, Nicholas believes that if you can execute on quality and get that to customers, it won't matter what you're branding. Unfortunately, we live in a world where people seek the glitter without substance. In the end, however, quality wins out among savvy consumers. There are a plethora of cannabis content creators popping up in the industry. Unlike many, Nicholas sees this as a good thing, as there are so many different ways to present information. Different consumers seek different messages and different presentations. Ultimately, there is enough room for everybody, as long as the content is genuine.
3 DANK Points
The Canadian cannabis community's response to COVID-19.

Quality never goes out of style whether it's cannabis or content. 

Pivoting your business in times of crisis to better serve your community.
Links
Spotify | YouTube | Soundcloud | Stitcher
Follow