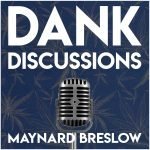 Laura Wilkie is a master cannabinologer and the President of Releaf Organix in Houston, Texas. Laura has researched and studied the many aspects of cannabinoids. Among those, she has learned about common cannabinoids and their uses, methods of taking CBD and dosages, as well as understanding product ingredients and labeling. Laura's initial reason to research CBD was her own probable Parkinson's Disease diagnosis.
Laura joins me to deep dive into those topics and to tell us her powerful story.
Having been diagnosed with probable Parkinson's Disease and prescribed to triple dosages of medicines, she knew there had to be another way to find relief.
First, Laura tells me how Releaf Organix was created from her personal need. She also created her business with the desire to help others. After trying many tinctures and topicals, she found just the right product for her needs. Laura can now proudly say that she is entirely off of pharmaceutical medicine with the help of CBD.
Next, we discuss the different oils used in tinctures and why they matter just as much as the cannabinoids. Laura explains which carrier oil works the best. This particular oil provides our body with omega 3 and other fatty acids we do not normally get. Lastly, we talk about the stigma and
misinformation
surrounding CBD and how that has changed the demographic in her store. When she first opened shop, Laura found that her younger crowd of customers were looking for smokable products, whereas the older folk were looking for relief from pain. Laura saw this as an opportunity to educate her staff so they are able to answer tough questions and find the right products for their customers. Finally, Laura shares her direct involvement in the development of a CBD tincture formulated specifically for horses.
3 DANK Points
CBD reduced tremors of Parkinson's Disease in her hand.

How horse tinctures are helping racehorses after retirement.

Why different types of oil can help or hinder at CB1 and CB2 receptor sites.
Links
Spotify | YouTube | Soundcloud | Stitcher
Follow