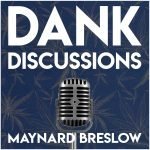 Sarah Birney is a holistic nutrition and formulation specialist, as well as the co-owner of Blooming Botanicals (https://bloomingbotanicalshemp.com/?ref=calacann). Blooming Botanicals is a custom formulated and herbally infused CBD line that focuses on incorporating additional plant medicines. Along with her partner Bryan, Sarah has an impressive background as a cannabis grower, a holistic health consultant, the owner of a superfood company in Costa Rica, and finally as a whole health therapist in yoga and massage.
Today, they are proud to say that their business was built with the backbone of education, sustainability, and wellness. Also, all of Blooming Botanicals' products are officially licensed by the Michigan Department of Agriculture & Rural Development (MDARD). These additional components are an effective carrier to create a high powered and effectively bio-available product in CBD Formulation.
Interweaving holistic nutrition and cannabis into one entity.
In this episode, Sarah joins me to talk about Blooming Botanicals and her own journey of learning more about how pure CBD formulation helps diagnose what reacts with what in the body's ingrained endocannabinoid system. She also tells us how nutrition and holistic health go hand in hand with the amazing chemical properties of the wonder plant we all know as Cannabis. Lastly, and most importantly, why HAPPINESS is the best form of success for all entrepreneurs.
3 DANK Points
Doing your due diligence before releasing under-par products.

Having to hide being a cultivator and how the stigma has changed in the last decade.

How to talk about the benefits of CBD without putting your company at risk.
Spotify | YouTube | Soundcloud | Stitcher
Follow