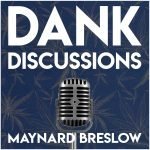 Jessica Funcheon is the owner and licensed massage therapist at Carmel Restorative Massage Studios in Carmel, Indiana. Their main mission and purpose is to help people with chronic pain find relief through massage and Hemp-Derived CBD Products. Using her unique methods, Jessica is helping the cannabis community in Indiana evolve. In her experience, she attests to even seeing clients with Fibromyalgia find relief. In addition, she strongly believes that massage is an important element in helping alleviate chronic pain and stress. By using full-spectrum Hemp CBD topical in her pain relief practices she aims to change the stigma.
CBD Even Helped Jessica in Her Own Battle With Addiction
In this episode, Jessica also shares her courageous story of coping with tragic loss, which led her down the hole of addition. This beautiful account culminated with recovery from addiction using the help of CBD. Not only that, she has turned tragedy into triumph with a thriving business that is helping others with their own challenges.
3 DANK Points
Using CBD to get off prescription sleeping pills

How our bodies internalize stress, trauma, pain and anxiety

Her answer to those not willing to pay a premium price for a better product
Spotify | YouTube | Soundcloud | Stitcher
Follow