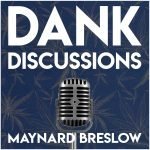 Andrew Hunzicker is a CPA and Founder of Dope CFO, a program for accounts specializing in the cannabis industry. In Oregon, Dope CFO is nationally recognized for its Cannabis and CBD Accounting & Tax training program through various tools and systems and proactive professional accounting veterans.
Andrew first tells me about his mission to get his message across to business owners on the importance of accounting and tax. Although building your brand, product, marketing, and operations are crucial, accounting and tax should also fall in the same category. He believes that companies should build that accounting foundation first because it's not simple dealing with lenders and investors on your own.
Working with Startups
Working with startups had been a great experience with Andrew. The business owners are younger, passionate, and dedicated to their endeavors. Most startups are well funded. Otherwise, these companies will barely survive. Andrew has observed that 9 out of 10 companies do it incorrectly. Failing to have a good cost accounting from your day-to-day books, you will end up paying more taxes. He also emphasized the rule for inventory, tax codes, saving money, improving cash flow, and how investors wisely invest their money in startups.
Getting into the Niche
Andrew explains that if you intend to run your firm as a bookkeeper, CPA, enrolled agent, CFO, etc., you must ensure that you pick a great niche. Becoming an expert on that niche is the secret of a successful firm. Andrew thinks that choosing between Cannabis, CBD, or hemp is ten times better than the other niches that exist in the US. Dope CFO allows accountants to get into the niche quickly. Participants have access to education links and videos paired with an expert to educate you on accounting, taxes, court cases, operations, brand, politics, and software. Dope CFO has a world-class service where their clients have access to hundreds of papers, tools, and a proactive community of veteran attorneys, CPA, Enrolled Agents, bookkeepers, CFOs, MBAs, etc.— in all 50 states.
Education as an Obstacle
Educating people on his niche has been Andrew's obstacle. His mother was a big anti-cannabis person, but he convinced her to take it, albeit slowly. Getting more competitive accountants and tax people in the industry is also a big challenge to help protect people's investments. There are some squabbles on the national government's stance on cannabis regulation, and it's an exciting time to see how things will unfold soon. Whether it's your business or personal life, you must be sure that you love what you do. Andrew says he hated working in the oil and gas industry, and he thought he had wasted ten years doing something he did not love. He wanted to leave a better impression and legacy for his children. He is a firm believer that it's better to get involved in an industry that you love and are passionate about. This allows you make a difference in other people's lives with your work. Whether you are an entrepreneur or an employee, ensure to learn the art of giving back to others!
"Success to me is being involved in an industry that I love and have a passionate love for. I feel like I am making a difference with my work."
3 DANK Points
Mastering the art of giving back to others while doing what you are passionate about.

Accounting and tax are just as important to your cannabis business as building your brand.

Choosing a niche to be involved in is crucial for an accounting firm's long-term success.
Links
Does your cannabis, hemp, CBD company need to improve local or e-Commerce sales? Set up a time to speak with us at Calacann – Cannabis Marketing Agency (https://calacann.com/grow) to discuss how our digital marketing, search engine optimization (SEO), web design, affiliate/referral marketing or influencer marketing campaigns can help you. Home of the D.A.N.C. Method.
Spotify | YouTube | Soundcloud | Stitcher
Follow