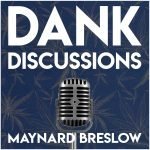 Meg Sanders is the Co-Founder and CEO of Canna Provisions, a cannabis adult-use retailer with stores in Pioneer Valley and the Berkshires where it is headquartered in Lee, MA, where she also lives. As former CEO of Colorado-based company, Mindful, Meg Sanders headed the largest woman-led cannabis company in America. She also built one of the most respected and most recognized cannabis producers and infused products manufacturers with medical and recreational dispensaries operating across the state of Colorado and in the State of Illinois. Since its foundation, Canna Provisions Group's mission is to make life's journey better by providing premium cannabis products to all customers, whether it's their first time or they are experienced cannabis consumers.
Meg first shares her journey from the birthplace of Cannabis legalization in Colorado to the latest challenges many cannabis businesses face during this time. She also talks to us about the need to focus on legacy markets to fix social equity, how data collection and execution helps optimize the cannabis business, and what success feels like for her
From Colorado to Massachusetts
Meg played a key role in the establishment of regulations for the legal marijuana industry in Colorado, having been the only industry representative appointed by Gov. Hickenlooper to be involved in their creation. Meg is a sought after resource to assist countries, states, counties, and municipalities in forming their Medical and Adult-Use Marijuana Programs.  Meg has used her expertise to assist local and state regulators seeking input, feedback and beta testing for various systems related to tracking, growing and selling medical cannabis. In the past, Meg has been honored to participate with the White House, FBI, NSA and other national organizations in a workshop hosted by the National Science Academy discussing protecting our bio economy, making it the first time ever that cannabis was discussed by the organization. As Co-Founder of Will & Way, Total Cannabis Solutions, Meg, along with her partner, Erik Williams, consult nationally and internationally for businesses, governments, investors and institutions.
Finding Success in the Cannabis Industry
Meg explains that the key to becoming successful in a highly regulated and heavily taxed industry is to ensure that you are as efficient as you can in your operations. She notes how data execution is key to optimizing the business. She says a data-driven company helps in the cultivation, planning, and production of high-quality products, starting from the basics like recording the best temperatures for different strains and their performance at different times of the year. She also emphasizes sales analysis and data tracking from online ordering and e-commerce systems, ensuring consumer feedback is noted to improve. Capturing data is one thing; what you do with it is the deal-breaker. Meg notes that a third of the purely social Cannabis consumers have not used cannabis since the pandemic started. She says people are stressed during this time and resolve to cannabis to give them peace of mind.
Fixing the World with the help of Cannabis
Meg says very tough regulations have been put in place in the industry to deny some parties a piece of the pie. She says the playing field has been designed to make it more expensive for women to operate. Meg notes that inequity starts with the ridiculous and expensive regulations that block minorities from coming into the industry. Meg encourages women to run for office and helps change this trend. Meg says cannabis can be a shining light to the world, especially during these challenging times. By supporting other business models and guiding people to the right way of achieving their goals in the industry. She also insists on how the industry has been the focal point of giving back to society through donations and pushing for equity and change. Meg continues to be a leader in the legal cannabis movement and industry and has been featured in media globally including 60 Minutes, Rolling Stone, The New York Times, Le Monde, NPR, NBC, Der Spiegel, The Wall Street Journal, BBC, High Times, CBC and many more.
"If I can't look in the way of everybody that I interact with then think that I'm leaving this place a better place, then I was not successful, no matter how much money I made."
3 DANK Points
Legacy Market vs Legal Market: There is a place for everyone

Why cannabis became an important entity in the world during the pandemic.
Using the power of cannabis to create a better society in this world.
Links
Does your cannabis, hemp, CBD company need to improve local or e-Commerce sales? Set up a time to speak with us at Calacann – Cannabis Marketing Agency (https://calacann.com/grow) to discuss how our digital marketing, search engine optimization (SEO), web design, affiliate/referral marketing or influencer marketing campaigns can help you. Home of the D.A.N.C. Method.
Spotify | YouTube | Soundcloud | Stitcher
Follow