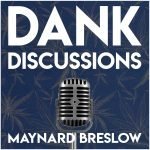 In today's Dank Discussions session, we are joined by Anthony Lee AKA Full Time Tony. He is the managing partner at  Culture & Cannabis, a creative media and branding company based in Las Vegas. Anthony joins me to talk about the many different events his company creates, his extensive background in entrepreneurship, and the impact that Covid 19 has had on businesses by forcing many companies to go online.
Anthony first explains that his goal with Culture & Cannabis is to uplift the community around him and different cannabis companies through experiences. His markets are majorly in Las Vegas and Oklahoma, and nowadays they are doing smaller events. Anthony takes special care to ensure that people are staying socially distant and enforcing the use of masks. While people come to pick up their cannabis, Culture and Cannabis will usually do a pop-up with a DJ or a food truck so that people can enjoy themselves and have fun.
Entrepreneur from Day One
Anthony says that his entrepreneurship was molded by his parents, who were strict hustlers. He adds that his parents enrolled him in to a private school. While there, he interacted with children from millionaire and billionaire backgrounds. This gave him a good foundation for learning to live like a millionaire and being one. His first ever venture into sales was buying iPhone cases from amazon and then selling them to students at his school. He also worked at a company that branded t-shirts, which he says helped him shine in college and earned him a spot creating the sports outfits and other brandings for his university.
Between 2016-2019, he worked so much in marketing and consulting, he wanted to grab onto the cannabis industry. At the time, the cannabis industry was gaining ground in the states. After being introduced to the cannabis convention by a friend of his, Marcus, he understood the marketing aspects so well. He says this is when he met with his partner Jaycee and other partners and finally came up with Culture and Cannabis. Anthony says that a fundamental part of motivation is perspective. He adds that if you want something and you put in the work, you can get it. He highlights the advantage of being in America, as the country offers you the platform to build the kind of empire that you want, even though it can be easy for some and more challenging for others.
Cannabis Laws
Anthony shares about the challenges that they face in the cannabis industry due to the laws and regulations set before them. He mentions how awful it is that some people are put in jail for committing cannabis-related crimes, how those laws that they broke are no longer in place anymore. He also shares how some of those same people would have been multi-millionaires in the cannabis industry, as they fully understood the market. He highlights some of the policies that need to change are creating safe spaces where people can smoke weed and enjoy themselves, and somehow transforming cannabis in to a "beer style model" of production and distribution.
Community Helping with Content
Cannabis companies can't run ads on social media pages such as Facebook and Instagram; this helps to level the playing field for both the big companies and small companies. He adds that if big and more established companies were allowed to run ads on social media, with the kind of funding they have, it would be the end for small companies like Culture and Cannabis. He says that even though they can't run ads on social media, they have partnered with restaurants to help them run ads on social media and get incentives such as a menu named after them. The culture helps them with cannabis marketing as it helps them reach more people. He also says that this type of marketing gives us the ability to tell a story and give our consumers a different view of what we do. He adds that it is important to connect with the people around you and network as much as possible. You must be consistent in putting yourself out there. Even though you might not be perfect, you will always have the chance to grow.
"Success is being able to do what you love and what makes you happy."
3 DANK Points
Content marketing is everything in the cannabis industry.
Branding and consistency are essential in entrepreneurship.
If you put passion in to your goals, it is easy for you to achieve them.
Links
Does your cannabis, hemp, CBD company need to improve local or e-Commerce sales? Set up a time to speak with us at Calacann – Cannabis Marketing Agency (https://calacann.com/grow) to discuss how our digital marketing, search engine optimization (SEO), web design, affiliate/referral marketing or influencer marketing campaigns can help you. Home of the D.A.N.C. Method.
Spotify | YouTube | Soundcloud | Stitcher
Follow