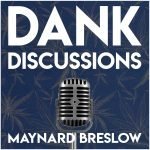 Rod Kight is a cannabis business law attorney for Kight on Cannabis. He is the founder and principal of Kight Law Office PC, a law office that represents businesses in the cannabis industry throughout the world. He is also the editor and chief writer of the Kight On Cannabis law blog, as well as the author of "Cannabis Business Law-What You Need to Know". Lastly, he is a column writer on the advisory board for the American Journal of Endocannabinoid Medicine. Rod joins me to talk about his experience being a cannabis lawyer and the business side of the cannabis industry.
First, he tells how falling in love with cannabis as a freshman in college. His relationship with cannabis helped propel him into his current profession as a cannabis lawyer. Transitioning from being a corporate and bankruptcy lawyer, he felt afraid to tell his colleagues about being a cannabis lawyer. With a lot of stigma surrounding cannabis, many people who wish to transition their business into the cannabis industry are facing these same fears. Rod emphasizes that education is the major key in helping businesses apply personal experiences for their customers, and how he has implemented this in his law practice. As a strong believer in cannabis for personal and medical use, Rod is on a mission to destigmatize cannabis. After using it successfully during chemotherapy treatments for cancer, He has been in remission for over 10 years.
The Contradiction about Cannabis and the Federal Government.
Cannabis should be legal and available for people who need it. With marijuana still flagged as a controlled substance, Rod speaks on why it is incongruent that cannabis is also marked as an essential business in a stimulus package. This is a contradiction that cannot tolerate under our current system. He explains that federal law says marijuana is still illegal while the federal government holds a patent in cannabis compounds and its medical benefits. While lobbying efforts and progressive measures have been pushed back, certain bills and efforts have been passed that are retaliating those push backs. These same laws are not applicable to CBD and Hemp, as they have their own laws.
Where will the Cannabis Industry be after COVID-19?
Furthermore, we deep dive into how the conversation with cannabis has changed because of COVID-19. People are running to Rod with questions during these trying times. Some being, how to manage short balls in cash and revenue? Where to identify where the market will be and how to position ourselves? How do we deal with debt and creditor-debtor issues, and even bankruptcy solvency issues? Rod explains that COVID is pushing things back by creating a shift in the industry. Although this is a difficult time, it is a good time for learning and educating. The unique thing about this is seeing a situation where everyone is working together, and we will see a different and stronger industry when we come out of this.
3 DANK Points
Cannabis terms and how they affect us legally on the federal level.

COVID-19 and Cannabis: Essential business and yet not part of the stimulus bill.

The legal affects the CoronaVirus will leave on the industry in the long term.
Links
Spotify | YouTube | Soundcloud | Stitcher
Follow