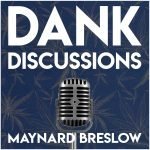 Byron Bogaard is the Owner of Highway 33, the Bynate dispensary. He is also the CEO of WB Pharms Dispensary/Lounge and partner in Local Motive Farms. Having started out in the industry 20 years ago, he has had experience working in cultivation and consulting. Byron has been involved with Cannabis since his days in college and has always used it for medical purposes with his learning disabilities. He offers his unique perspective of what it's like to run a dispensary and bring it from the medical days into the recreationally legal market in California.
Pushing for Laws that Help Cannabis Business Owners
Currently, Byron is also the vice-chair of the retail committee for the National Cannabis Industry Association. He joins me on this episode to talk about how we have to work together to fight for fairer laws, instead of falling into the competition trap that too often divides our power. In addition, Byron shares his personal story of persevering through ADHD with the use of cannabis to climb the ladder of success. Finally, Byron shares his motivation to not only normalize cannabis but most importantly create a better future for his children. If you are ever driving up Highway 5 in Central California, take 10 minutes to say high at hwy33.
3 DANK Points
Normalizing cannabis use in the business world.

Using cannabis for learning disabilities.

Lobbying together instead of being fragmented.
Spotify | YouTube | Soundcloud | Stitcher
Follow