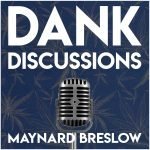 Cullen Raichart is the CEO of GreenBroz, the world leader in harvesting solutions for the hemp and cannabis space based. Based in Las Vegas, Cullen created GreenBroz by combining a dream and minimal capital all from the comfort of his garage. Through hard work and dedication to product quality, his vision has propelled GreenBroz to be considered as an innovative industry leader in the cannabis harvest space. In this episode, we'll be talking about machine design, how to solve problems, the importance of manufacturing in the US, and scaling up cannabis with automation.
Cullen started growing in 2009 along with his father. At the time, he was working for a Fortune 500 company, and he had a wife and two kids living in La Jolla Beach, California. He was making good money but it wasn't enough. Cullen says that he is a problem-solving man. He goes after things and finds a solution, then moves on to the next. He likes to fix things, so it felt like a natural jump for him to look at some of the industry's mechanical issues and figure out how to solve them. Cullen says that the motivation was to reduce the amount of energy required in the efforts used to harvest cannabis. The most prominent innovators in the world and some of the wealthiest people are looking to find an easier way to do things. As for Cullen, he would always find himself trying to find a solution to any problem.
Brand Consistency is Key
Buying a food processing and fitting them all together is the same thing as buying a Cannabis processing and having somebody to put it together. But it doesn't sense to have a guy stand at each machine and move from machine to machine when connecting those machines with conveyors. You can start to gain efficacy and efficiency through that whole process. What you do with machines is increase your ability to have consistency, which is very valuable alongside branding. Once you have growing down, there is already a considerable amount of energy paid to that. People create good systems, therefore you can take those systems, copy them from place to place, and start getting consistent products. You also have to do that with your harvesting solution because you want that to be the same. You don't want to use one system and do it one way and have your employees do something else. It should be the same from start to finish because you want it to look, feel, and taste the same. Brand consistency is built through a complete processing system that gives you what you want from the beginning to the end.
Improving Business Flow
Cullen shares that whatever his clients' process of making their product is, it's his job to come and tell them how they can do something to make their whole flow better and more successful. He says that it's not his responsibility to override their system or make them feel like they did the wrong thing. It's his responsibility to get them to be as productive as they possibly can. Hopefully, through this process, he can build brand loyalty for GreenBroz and continue to do business with the client as they go forward. Cullen emphasizes that we must treat cannabis as a delicate product and to think about its value. Intelligent people, from a money perspective, are the people who find themselves in a good middle position where there is the least amount of touch and the most amount of value. Because of the legality of cannabis, people have to be very creative to depreciate their assets. And at GreenBroz, they get beat up on the price over the equipment they make. When Cullen buys equipment at the end of the year, it goes against his income. He can keep more money available to his company, and he's spending it over the long haul. 
Automation Helps Maximize Efficiency
One of the ways of thinking about automation is the ability to offset costs and offset profit. But without that ability, you still have to look at what automation truly provides you. Automation frees up labor to do all the other stuff that's not going to get automated. There's a certain amount of automation that's going to be involved, but there's a certain amount that's never going to get done. For Cullen, he is not in the business of getting rid of employees but in the business of maximizing everything. This includes the value of employees, by making them as efficient as he possibly can and maximize the value of systems and processes to get the product done in a timely fashion.
Cullen believes that there is a lot of value in manufacturing. Although he says that he is not for importing, he feels that the country where he lives is an excellent opportunity to lead the innovation. America gets the chance to lead the world and lead the change. The American Dream is not about getting rich but about doing your own thing and having the freedom to do your own thing. Cullen supports people who are doing their own thing, and he does them a favor by helping them and buying from their business. When you are supporting local businesses, you are keeping the money in your community. It doesn't matter what country you're in.  You should support your own, support your country, be proud of the things that your country has, and support where you are and what you do.
"I enjoy work. That's what I enjoy the most. I love my wife. I love my children. But this is what I do. And this is what fulfills me the most. For me, success is going into work, working hard, being tired, and going home. Having that ability, to me, is what makes me feel accomplished."
3 DANK Points
Brand consistency is a major key to the success of any cannabis company.
The legalities surrounding cannabis affect the prices of equipment for cannabis automation.
Supporting and buying from your local community businesses creates more growth opportunities.
Links
Does your cannabis, hemp, CBD company need to improve local or e-Commerce sales? Set up a time to speak with us at Calacann – Cannabis Marketing Agency (https://calacann.com/grow) to discuss how our digital marketing, search engine optimization (SEO), web design, affiliate/referral marketing or influencer marketing campaigns can help you. Home of the D.A.N.C. Method.
Spotify | YouTube | Soundcloud | Stitcher
Follow