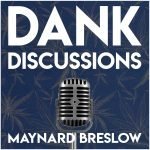 Galen Williams is a Mergers & Acquisitions Advisor and Cannabis Executive. He is also the interim CEO for MD Exclusive, a California-based CBD company backed by medical professionals. He holds an extensive background and experience in business as well as cannabis. In this episode, we discuss the bigger and broader topics such as diversity, racial stigma, and unnecessary incarcerations due to the war on drugs. These topics, unfortunately, are not addressed enough in our industry. While Galen does not speak on the Black Lives Matter movement directly, his experience and views are incredibly timely as much needed awareness and reform within not only cannabis but also society as a whole are finally being brought to the forefront. With this episode, we hope to make a change and see more people of color in leadership positions.
First, Galen tells me where his burning interest in entrepreneurship spawned. As a kid growing up with a dad who owned a janitorial supply business, Galen was an employee by default. When one of his father's employees was diagnosed with colon cancer, it caused a huge impact on his family as well as the community. With his future in mind, Galen decided to go to business school to mitigate the risks that had become apparent due to his father's experience. After earning a BA in business and an MBA in entrepreneurship, he pivoted into cannabis when the laws surrounding medical and recreational cannabis were changed. Since 2014, Galen has been working in the legal cannabis space on the west coast as an advisor, consultant, and CEO. He also works with helping cannabis investors to maximize their investments. 
The Real Reason Cannabis Companies Fail
Next, we talk about the underlying reasons many well-funded cannabis companies continue to fall by the wayside. While most people usually blame nefarious intentions, Galen uses Silicon Valley as an analogy. In Silicon Valley, we see startups have a very high burn rate. Galen says it is very obvious that operations are lacking in the cannabis industry. Dealing with regulations and legislations that are constantly changing, makes it way more complicated to regulate operations. Additionally, with the spread of COVID-19, the cannabis industry finds itself reconstructing the business model and correcting the market. 
The Growth of the Cannabis Industry prior to Legalization was Born on the Backs of Black Lives
Next, we deep dive into race issues surround the cannabis and incarceration industries. Not only was the war on drugs inherently racist, it actually helped fund others due to privatized prisons. Fast forward, Black people are still in prison for cannabis crimes while many white people are flourishing in cannabis. That is what injustice looks like in the cannabis industry. Furthermore, the ones who get out are unable to properly apply for a license due to having a prior associated with cannabis. Galen expresses how similar this injustice is to the Jim Crow Laws. In the 1960s, when people of color finally gained the right to vote, southern states created a series of tests that made it nearly impossible for black people to pass.
Culture Starts At the Top: Examining the Injustice That Still Exists From the Top Down
With the Black Lives Matter movement gaining momentum, many injustices are finally being brought to the forefront of society as a whole and cannabis in particular.. We have a massive incarceration issue, race issue, and stigma issue in this country. Our industry is not exempt issues from these as anyone can see attending any cannabis conference. Responsibility comes down to the people who own businesses to have diversity in mind when hiring employees. In a market where so much money is made off the incarcerations and shoulders of people of color, a lot of work needs to be done on the social equity side and the justice side of this industry. If the cannabis industry and its leaders truly respect history, they should know that everyone deserves to have a spot at the discussion table. 
3 DANK Points
Increasing diversity (men and women of color) in leadership positions in the industry.

Providing more capital/liquidity and real business operators for the industry to grow. 

The real reason so many leaders running well-funded cannabis companies fail.
Links
Spotify | YouTube | Soundcloud | Stitcher
Follow