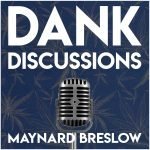 Harold Jarboe, also known as The Old Hemp Farmer, is a fellow podcaster and the Vice President and Marketing Director of Tennessee Homegrown. Mr. Jarboe was raised in rural Southern Indiana where his father's family had a farm. This is where Mr. Jarboe learned more about agriculture and encountered his first Cannabis plants which were hemp plants growing in the wild. That encounter with hemp led him on a journey studying Cannabis that still continues today. In 2000, Jarboe started researching different agricultural techniques of commercially farming Cannabis in anticipation of eventual legalization. In June of 2014, the cultivation of Hemp was legalized in the state of Tennessee. At this time, Harold decided to switch from growing high THC Cannabis to growing high CBD Cannabis and Hemp. Thus, the "Old Hemp Farmer" name was born.
Harold joins me to talk about his experience researching cannabis and trailblazing the industry. First, we talk about how important the climate is to the rate of cannabinoids your crop will produce. Next, we discuss how some keys to staying compliant with the .3% Delta-9 THC regulation when growing high for high-CBD-yield hemp. If your plants come out even .2% over, it is likely that your crop will go up in flames for all the wrong reasons. Harold tells us this from experience. Interestingly, we discuss why CBD is becoming more popular in southern states where it is easy to assume stigma would be prevalent. Harold shares that most of the retailers that buy hemp products from him have noticed that CBD fits their lifestyle rather than THC.
Integrity, Marketing, and Business: Aspects Many Companies in the Cannabis Industry Overlook
Finally, we deep dive into the differences between the CBD and THC industries. In the CBD industry, there is much more education about products needed when making a sale. Whereas, the THC industry is much more about people knowing products already and using them recreationally rather than medically. Mr. Jarboe tells me why many hemp farms foolishly overlook basic business premises such as marketing, thinking "if we grow it they will come". He explains that people who love the plant tend to not look at cannabis as a business. Mr. Jarboe's only advice to these people is to write down a business plan and take the words "Cannabis" or "Hemp" out of it and to see if their plan still works. The ability to cater to the community while making sure to put the business first is the foundation Tennessee Homegrown was built upon. 
3 DANK Points
Transitioning from high THC to high CBD growing

The difference between growing from clones and seeds

A two-fold market evolving within the industry: quality vs quantity
Links
Spotify | YouTube | Soundcloud | Stitcher
Follow