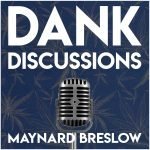 Jared Boudreaux is the owner of Lost Coast Wellness, a hemp-derived wellness company based in northern Humboldt, California. Along with his family, Jared and Lost Coast Wellness aim to promote wellness for people, pets, and the planet. Lost Coast Wellness takes pride in being able to vertically integrate the four stages of biomass, manufacturing, formulations, and distribution. By calculating the bioavailability of all the ingredients within their products and then interweaving CBD into said products, they are able to take formulation to the next level. 
Jared joins me to talk about his passion for helping others and his goals for the future of Lost Coast Wellness. First, Jared shares with me that he has been in the industry since 2005. Before Jared and his family found their home in Humboldt, they lived in Louisiana where he worked as a self-employed contractor. He shares with me that he and his family were devastatingly hit by Hurricane Katrina in August of that year. It caused them to lose their entire home.
Not long after recovering, Jared and his family moved to California and began to start growing, both literally and figuratively. He tells me that it was refreshing to finally feel a positive stigma towards cannabis in California.  This being opposed to Louisiana where people can be arrested for joints. Next, Jared tells me about his personal journey with cannabis. Diagnosed with ADD at a very young age, he felt he had many problems growing up. When cannabis came into his life, he felt as though he was getting better rather than diluting himself with prescribed medications. It is important for people to know that cannabis has helped millions of people with ADD.
Navigating the "Normal" in the Cannabis Industry
Lastly, we deep dive into the process of attaining a grower's license. Jared tells me that it was the hardest and most regulated thing he has ever had to deal with. What can we say and how can we say it without feeling like we are tricking the health market. Not surprisingly, Jared started off in the Delta-9 side of cannabis and he speaks about some of the issues he faces moving over to hemp in Humboldt. Being honest and educating people on what this is during the grandiose experiment of CBD and Plant Medicine. If we can figure out a way to share knowledge and experience openly without making medical claims, it would be very beneficial to the CBD Industry. We know the future is bright for CBD. Anyone in the industry that is looking out for the betterment of the people is gonna take that approach over their profits. By taking all of the original breed lines and process them correctly, Jared hopes to give people the relief they need. 
3 DANK Points
How the tragedy of Hurricane Katrina led him and his family out west and became a blessing in disguise

Transitioning to a focus on hemp in an area that is historically known for it's THC

Putting yourself out there when you were trained to keep a low profile as a cannabis grower for over a decade
Links
Spotify | YouTube | Soundcloud | Stitcher
Follow