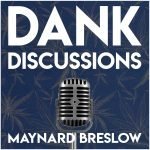 Javier Hasse is the CEO of El Planteo, Managing Director of Benzinga Cannabis, Book author with Entrepreneur Media, and a weed reporter for various publications including Forbes, Playboy, CNBC and CNN. Based in Latin America, he specializes in covering cannabis, hemp, CBD and psychedelics news, information, events and tech with a focus on finance and business. In this episode of DANK Discussions, Javier talks to our host Maynard Breslow about legalization laws, the Black Lives Matter movement, and the undercurrent of racism in Latin America.
First, Javier tells us about his thoughts on the pandemic. He has noticed that coronavirus has actually allowed us to reevaluate the state of our freedom. It is agreeable that this pandemic has been so pervasive to a point that people have decided that their personal freedom has been chosen for them. With the spread of Covid, there has also been a spread of aggression towards others who are different and and a rise in selfishness fueled by instant gratification. Traditionally western civilization has been focused on the "individual", giving America a lot of soft power towards setting the agenda for the cultural discussion with the rest of the world. 
How Social Movements Have Been Making an Impact in Latin America
Next, Javier shares his thoughts on the current call for equality spearheaded by the Black Lives Matter movement. According to Javier, The United States government and the police themselves are working under a corrupt system. Javier shares that being raised in Latin America gave him the impression that police brutality was normal. He explains how there are fewer mechanisms (i.e. bodycams, badge numbers, etc) in Latin America to show how apparent police brutality is there. Javier says there is also a level of classism that underlies the huge monster of racism in Latin America, especially in Argentina.
This is very similar to the movement towards defunding the police in America. We must be reminded that systemic racism is not new to us. The deaths of so many people like Breonna Taylor and George Floyd have been catalysts towards even more massive marches around the world than we have seen. Clearly, all of the systemic racism around the world is amplified by the current state of the US. 
Cannabis and Justice Must Be Tied Together
With the current state of world events, people must know that there will always be allies who are fighting for the same thing but from a different perspective. When it comes to cannabis, be mindful at how fast things are advancing. In this industry, we are pushing for change as much as we are in society and in the world. We are pushing to see people of color in cannabis C-suites, we are yearning to give justice and freedom to those who have been arrested for non-violent cannabis crimes, and we're constantly looking out for women in the cannabis industry to be treated fairly. If we continue to work together and show kindness towards others, it is sure to be a step in the right direction towards a world without constant fear and stigma.
3 DANK Points
The parallels in discrimination against the social classes in Argentina vs POCs in America

Cannabis and social equity are inherently tied together

There must be affordable options for those who need medical cannabis but cannot afford it
Links
Does your cannabis, hemp, CBD company need to improve local or e-Commerce sales? Set up a time to speak with us at Calacann – Cannabis Marketing Agency (https://calacann.com/grow) to discuss how our digital marketing, search engine optimization (SEO), web design, affiliate/referral marketing or influencer marketing campaigns can help you. Home of the D.A.N.C. Method.
Spotify | YouTube | Soundcloud | Stitcher
Follow